Alan Guo
I received my PhD in Theoretical Computer Science at MIT in June 2015, where I did research in algebraic coding theory under the supervision of Madhu Sudan.
I received my BS in Mathematics from Duke University in May 2011, where I did research in combinatorial commutative algebra and combinatorial game theory under the guidance of Ezra Miller.
---
Research
Personal
CV (outdated)
---
Research
Below are links to online versions of my research papers. They should all be up to date and fairly close to the published versions.
Preprints
Alan Guo, Swastik Kopparty, List-decoding algorithms for lifted codes,
Submitted. [arXiv]


Publications
Unpublished papers
Alan Guo and Madhu Sudan, Some closure features of locally testable affine-invariant properties,
Manuscript. [ECCC]


---
Personal
One of my hobbies is drawing. Here are some recent things I've drawn.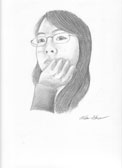 ---