<! AntiqueWhite1>
Steerable filters example
2nd derivative of Gaussian
Example of steerable filters. Top line: three rotations of the second derivative of a Gaussian. That filter has three (complex) frequencies in polar angle, so a linear combination of three copies of the filter are sufficient to synthesize all rotations of the filter (see references). Middle: Zone plate test image. Bottom: By the linearity of convolution, the output, filtered to any orientation, can be synthesized as a lineaer combination of the outputs of the basis filters.
---
Synthesized filter and output

Rotated version of 2nd derivative of Gaussian, obtained as a linear combination of the basis filters above. The output of the zone plate to that filter was obtained as the same linear combination of the outputs to the basis filters.
---
Architecture for applying steerable filters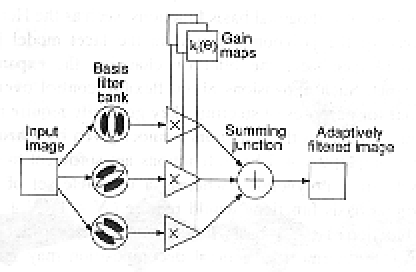 ---
Steerable quadrature pair


A steerable quadrature pair allows for continuous control of the filter's phase and orientation, useful for contour analysis and enhancement. Seven basis filters span the space of all orientations and phases of this filter.
---
References
W. T. Freeman and E. H. Adelson, The design and use of steerable filters, IEEE Trans. on Pattern Analysis and Machine Intelligence, vol. 13, no. 9, pp. 891 - 906, September, 1991. MIT Vision and Modeling Group TR 126.

G. H. Granlund and H. Knutsson, Signal processing for computer vision, Kluwer Academic Publishers, 1995.

P. Perona, Deformable kernels for early vision, IEEE Trans. on Pattern Analysis and Machine Intelligence, vol. 17, no. 5, pp. 488-499, May, 1995.

E. P. Simoncelli and H. Farid, Steerable wedge filters for local orientation analysis, IEEE Trans. Information Theory vol. 5, no. 9, pp. 1377-1382 , 1996.

E. P. Simoncelli and W. T. Freeman, The steerable pyramid: a flexible architecture for multi-scale derivative computation, 2nd Annual IEEE Intl. Conference on Image Processing, Washington, DC. October, 1995. MERL-TR95-15.

P C. Teo and Y. Hel-Or, A Computational Group-Theoretic Approach to Steerable Functions<\cite>, STAN-CS-TN-96-33, Department of Computer Science, Stanford University, April 1996.

J. W. Zweck and L. R. Williams Euclidean group invariant computation of stochastic completion fields using shiftable-twistable functions, December, 1999.
<

! in: /homes/freeman/images/thesis/steer-filts rawtorle all-filts/data -n 1 -w 386 -h 386 | rleswap -f 0,0,0 | rleflip -v | to8| rletogif -o /homes/freeman/text/www/images/allfilts.gif rawtorle d/data -n 1 -w 96 -h 96 | rleswap -f 0,0,0 | rleflip -v | to8| rletogif -o /homes/freeman/text/www/images/d.gif rawtorle im.d/data -n 1 -w 128 -h 128 | rleswap -f 0,0,0 | rleflip -v | to8| rletogif -o /homes/freeman/text/www/images/im.d.gif rawtorle ha/data -n 1 -w 96 -h 96 | rleswap -f 0,0,0 | rleflip -v | to8| rletogif -o /homes/freeman/text/www/images/ha.gif rawtorle a/data -n 1 -w 96 -h 96 | rleswap -f 0,0,0 | rleflip -v | to8| rletogif -o /homes/freeman/text/www/images/a.gif > <! other steerable filter references: and see also: @ARTICLE{perona92, AUTHOR = "Pietro Perona", TITLE = "Steerable-Scalable Kernels for Edge Detection and Junction Analysis ", JOURNAL = "Image and Vision Computing", YEAR = "1992", VOLUME = "10", NUMBER = "10", PAGES = "663-672"} @ARTICLE{Beil94, AUTHOR = "Wolfgang Beil", TITLE = "Steerable Filters and Invariance Theory", JOURNAL = "Pattern Recognition Letters", YEAR = "1994", VOLUME = "15", PAGES = "453-460"} @ARTICLE{Huang95, AUTHOR = "Chung-Lin Huang and Yng-Tsang Chen", TITLE = "Motion Estimation Method Using a 3D Steerable Filter", JOURNAL = "Image and Vision Computing", YEAR = "1995", VOLUME = "13", NUMBER = "1", PAGES = "21-32"} @ARTICLE{shy, AUTHOR = "Douglas Shy and Pietro Perona", TITLE = "X-Y Seperable Pyramid Steerable Scalable Kernels"} @ARTICLE{greenspan, AUTHOR = "H Greenspan, S Belongie, R Goodman, P Perona, S Rakshit and C H Anderson" TITLE = "Overcomplete Steerable Pyramid Filters and Rotation Invariance"} 37 U. Mahlmeister, B. Schmidt, and G. Sommer. Preattentive colour features by steerable filters. In G. Sagerer, S. Posch, and F. Kummert, editors, Mustererkennung 1995. Tagungsband 17. DAGM-Symposium, pages 464-472, Bielefeld, 1995. Springer. 38 M. Michaelis, R. Herpers, and G. Sommer. A common framework for preattentive and attentive vision using steerable filters. In V. Hlavac and R. Sara, editors, Computer Analysis of Images and Patterns, Proc. CAIP'95, pages 912-919. LNCS, Vol. 970, Springer, 1995. --------------------------------------------------------------- I am a senior at Rutgers University, College of Engineering with an Electrical Engineering major. I will be graduating in May and am looking for a position. My main interest is in dsp systems. I have a reasonable amount of experience here at Rutgers with the CAIP(Computer Aids for Industrial Applications) center. My past work concerned object recognition by use of robust statistics, under Dr. Peter Meer. Now under Dr. James Flanagan, I am working on a video compression algorithm that incorporates multi-scale decomposition, vector quantization, and region of interest location. Thus the attempt, makes use of context independent image processing techniques while employing some content based information to reduce redundancy in processing and transmission. I have attached my resume to the bottom of this message for your reference and consideration for employment. Certainly I can provide a transcript and or any other information that might be of use to you. Thank you for your time, Thomas Edward Slowe email: slowe@caip.rutgers.edu phone: (908) 247-7593 THOMAS EDWARD SLOWE PRESENT ADDRESS PERMANENT ADDRESS B.P.O. 22706 81 Girdle Road P.O. Box 1119 East Aurora, N.Y. 14052 Piscataway, N.J. 08855-1119 (716) 655-3846 (908) 247-7593 OBJECTIVE A challenging position that entails the design and implementation of digital signal processing systems. EDUCATION B.S. Electrical Engineering, May 1996 Rutgers University, New Brunswick, N.J. - Cumulative G.P.A. 3.5/4.0 Major G.P.A. 3.7/4.0 EXPERIENCE Computer Aids for Industrial Productivity Multimedia Information Systems Laboratory Rutgers University, Piscataway, N.J. Research Assistant, September 1995 - Present - Design and implementation of a general purpose video compression system based upon the steerable filter algorithm - Extended system to operate upon regions of interest such that the most salient features of the image are transmitted and reconstructed before less salient features. Bureau of Engineering Research Computer Vision Laboratory Rutgers University, Piscataway, N.J. Research Assistant, November 1994 - August 1995 - Implementation of a correspondence validation algorithm within an existing object recognition system - Gained valuable experience in the measurement and implementation of a non-deterministic, non-linear, yet statistically robust system --------------------------------------------------------------- preattentive color features by steerable filters >