Potluck Screencast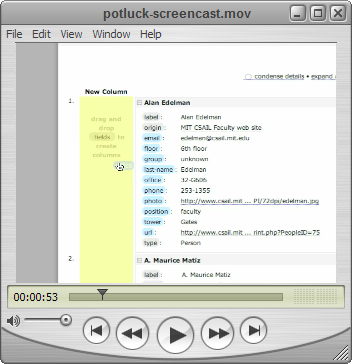 ~6 minute Screencast at 640 x 480 (67 MB Quicktime)
Watch the screencast first, and then ponder these points:
Ssshhh... there are Semantic Web technologies at work behind the screen, but there's no usual Semantic Web jargon on the screen. No "ontology", "URI", "DAML", "OWL", "equivalence",..
The Simultaneous Editing feature is a recognition that even though we're focusing on the "semantic" side of things, we can't ignore the "syntax" annoyances that will inevitably get in the way. And in the case of the building numbers, there is semantic within syntax.
Why didn't the blue "phone" and the pink "phone" get merged together automatically? Well, let's say if you are merging records from a birth certificate issuing office and a death certificate issuing office, do you think you will want the "date" fields to be merged automatically? Even if both offices use dc:date, are you sure they mean the same thing?
---
Screencast made by David Huynh