Epson 3800: My Favorite Papers
by Eric Chan

Last updated: October 8, 2007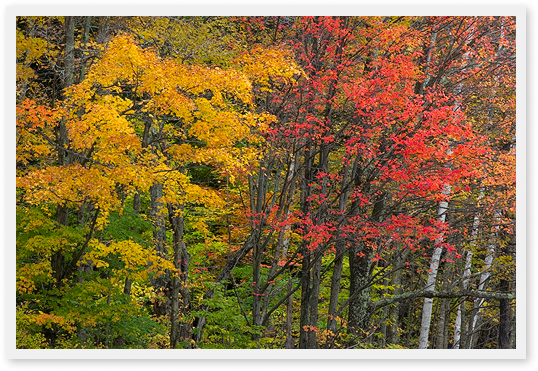 Autumn Color, Route 17, Vermont, October 2004
One of the great things about the Epson UltraChrome K3 ink set is its wide media compatibility. I love experimenting with new papers: it's both fun and interesting to see how the qualities of the paper -- not just d-max and color gamut, but also surface characteristics and texture -- contribute to the printed images themselves. Some papers offer high contrast; others provide lower contrast. Some papers are bright white; others are warm and cream-colored. Some papers are textured; others are smooth. Some papers hold a very tight dot; others produce a watercolor effect (because the ink bleeds more in the coating). I've tried a lot of papers with my Epson 3800 and have settled on a few personal favorites, described below.
Please keep in mind that paper selection is highly personal. It all comes down to what you like and the types of images you print. Don't consider the following list gospel and don't be offended if your favorite paper doesn't appear on this list. After all, you wouldn't expect us to agree on our favorite restaurants, would you? This is my list of favorites, and since I'm often asked which papers I like, here they are.
---
Epson Velvet Fine Art
If I had to name my single favorite paper for the Epson 3800, this would be it. When working on a new image, the first thing that I wonder about is whether or not the image will print well on VFA. This doesn't mean that VFA is perfect for all of my images. But I'll only reach for something else if I'm convinced that VFA won't work.

VFA is a lightly textured matte paper. The surface feels simply wonderful between the fingers, making VFA a great choice for boxed portfolio prints (i.e., prints which are intended to be viewed while held in the hand). Its special coating provides a rich, deep black and a large color gamut. Since VFA is textured, it works particularly well with images of rocks, trees, snow, and other textured subjects. For example, most of my images of the American Southwest and my New England fall foliage color images are printed on VFA. On the other hand, VFA is less suitable for images that contain large smooth flat areas; for these images, the textured surface can be distracting.

My only gripe with VFA is that it's a bit too thin and light for my taste. I wish it was available in a thicker and heavier version (similar to UltraSmooth Fine Art, see below).

Quick specs: lightly textured matte, 260 gsm, 19 mil (0.48 mm), 100% cotton, acid-free, contains OBAs. Available in 8.5" x 11", 13" x 19", and 17" x 22" sheets.
---
Epson UltraSmooth Fine Art
USFA is a smooth matte paper with a warm base (no OBAs). It has a phenomenal surface: very smooth with a trace of texture, which gives it a unique character. The weight and thickness are perfect, making it delightful to hold in the hand, but also easy to mount. The surface is very delicate, so be careful not to scratch it.

Although USFA holds the Epson K3 inks very well with no visible artifacts, it does not offer as high a d-max nor as large a color gamut as VFA. Consequently, USFA is my top choice for color prints whenever a matte paper is needed, but a textured surface (e.g., VFA) is unsuitable.

A fine alternative to USFA is Crane's Museo Portfolio Rag 300. However, I prefer the weight and thickness of USFA.

Quick specs: smooth matte, 325 gsm, 21 mil (0.53 mm), 100% cotton, acid-free, no OBAs. Available in 13" x 19" and 17" x 22" sheets, plus rolls.
---
Hahnemühle Photo Rag 308
Like USFA, HPR is a smooth matte paper with an ounce of texture. Unlike USFA, HPR contains OBAs and hence has a brighter and whiter base. HPR is not quite as smooth as USFA, but its surface texture has an elegant structure that I've not seen in any other matte paper. HPR's color gamut is among the best of all matte papers I've tried (right up there with VFA) with a d-max comparable to that of USFA. This makes HPR my paper of choice when I print color images that benefit from the whiter surface.

Unfortunately, large sheets of HPR do not always lie flat after printing and can develop some curl over time (unlike VFA and USFA, which both lie almost perfectly flat, before and after printing). A more serious flaw is that HPR has trouble with tone separation in mid and dark greens, which appear muddy. I now avoid printing on HPR whenever an image contains significant greens.

HPR is available in several weights ranging from 188 gsm to 460 gsm; I prefer the 308 gsm version.

Quick specs: smooth matte, 308 gsm, 19 mil (0.48 mm), 100% cotton, acid-free, contains OBAs. Available in 8.5" x 11", 11" x 17", 13" x 19", and 17" x 22" sheets, plus rolls.
---
Harman Gloss FB Al
Harman Gloss is easily my favorite paper for printing black-and-white images. It it reminiscent of a traditional air-dried F surface, with its smooth, elegant surface and pleasant, unobtrusive gloss.

The first thing I noticed after my Harman Gloss test prints emerged from my 3800 is the near complete absence of gloss differential. Harman Gloss has the least gloss differential of any Photo Black paper that I've tried with my 3800; apparently paper coatings make an enormous difference. Ink dots do not seem to bleed as much on this paper, leading to crisp, sharp image detail. The downside is that at very close viewing distances, the dot pattern itself becomes more visible (to the naked eye) and tonal transitions appear somewhat less smooth. To avoid pizza wheel marks, I usually feed Harman Gloss using the Front Feed.

My main disappointment with Harman Gloss is that its d-max is not as good as that of the Innova FibaPrint papers (e.g., FibaPrint White Gloss and FibaPrint Ultra Smooth Gloss). However, I am willing to overlook this because Harman Gloss is superior in most other ways: better surface, sharper images, less gloss differential, and significantly better packaging and quality control. Consequently, I have stopped using the Innova FibaPrint papers altogether.

See here and here for more detailed reviews.

Quick specs: gloss, 320 gsm, 12.9 mil (0.33 mm), Bartya base with Alumina coating, contains OBAs. Available in 8.5" x 11", 11" x 17", 13" x 19", and 17" x 25" sheets, plus rolls.
---
Red River Arctic Polar Satin
The print quality on most resin-coated E surface (luster/pearl/satin) papers is excellent, but I've always found the usual "pebbly" surface distracting. Arctic Polar Satin is outstanding in this regard: it minimizes the pebbly effect and appears more like a semi-gloss paper (Red River calls it a "low-depth luster" surface). D-max, color gamut, resolution, and ink handling are all first rate. The paper stays nice and flat both before and after printing, making it easy to mount.

The main area where I still see room for improvement is gloss differential. It is well controlled, but Arctic Polar Satin has now raised the bar.

Quick specs: low-depth luster, 255 gsm, 10.5 mil (0.27 mm), RC base, contains OBAs. Available in 4" x 6", 5" x 7", 8" x 10", 8.5" x 11", 11" x 14", 11" x 17", 13" x 19", 16" x 20", and 17" x 22" sheets.
---
Home