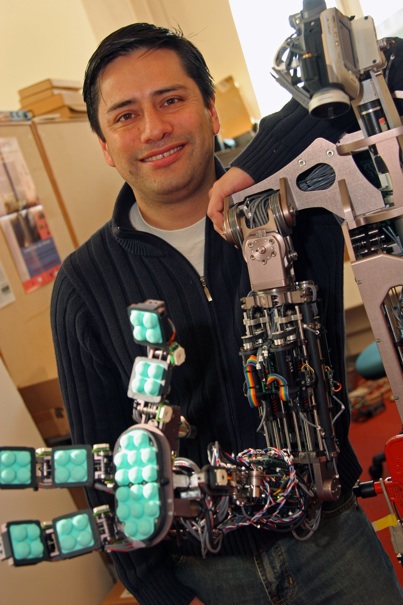 Eduardo Torres-Jara PhD.
New webpage
I am currently a postdoctoral associate working for Prof. Daniela Rus at MIT CSAIL and Prof. Rob Wood at the Microrobotics lab at Harvard.
Formerly, I was a postdoc and a PhD student at the Humanoid Robotics Group led by Prof. Rodney Brooks.

As my PhD. thesis, I developed an approach to manipulation that I called "Sensitive Manipulation." This approach relies mainly in tactile sensing and force feedback.

News
Recipient of a NASA Tech Brief Award. 2011.
Invited Speaker to the 2011 Japan-America Frontiers of Engineering Symposium. National Academy of Engineering and Japanese Engineering Academy, 2011.
Profiled in the Diners Magazine, Ecuador. August, 2011.
Elected one of the 100 most influential in the Massachusetts latin community. El Planeta Newspaper, Boston, MA. 2011.
Profiled in STEM stories.