Start the emulator. Remember, if you're running a statically-linked, uninstalled emulator, you must have the environment variable LTDL_LIBRARY_PATH set to the top of your build tree:

% cd /some/where/my-sun2
% tmesh ./MY-SUN2
ignore any cannot generate keysym warnings tmesh>

The emulator itself is called tmesh. tmesh is a shell for running commands that create and control emulated machines. One day, you will be able to create and manage a whole set of emulated machines running inside the same tmesh process, but for now it's only been tested to handle one machine.

tmesh takes one argument on its command line: the name of a text file containing initial commands for it to execute. In this case, MY-SUN2 contains commands to assemble a Sun 2/120.

A new, rather blank GTK window should appear on your screen. If you see any error messages, hopefully they're descriptive enough to help you figure out what went wrong. Usually, the first error listed is the real problem; when a central element of the emulated Sun 2/120 can't be created, many subsequent errors will be generated because all of the attachments to that central element also fail.

If you don't see any error messages, at this tmesh> prompt, give the ls command. This should give the following output:

tmesh> ls
mainbus0: tme/machine/sun2 multibus my-sun2-idprom.bin
cpu0 at mainbus0: tme/ic/m68010
obio0 at mainbus0 obio: tme/generic/bus size 8MB
obmem0 at mainbus0 obmem: tme/generic/bus size 16MB
ram0 at obmem0 addr 0x0: tme/host/posix/memory ram 4MB
rom0 at obmem0 addr 0xef0000: tme/host/posix/memory rom sun2-multi-rev-R.bin
rom0 at obmem0 addr 0xef8000
clock0 at obio0 addr 0x2800: tme/machine/sun2/clock
tod0 at obio0 addr 0x3800: tme/machine/sun2/tod
zs0 at obio0 addr 0x2000 ipl 6: tme/machine/sun2/zs
mbio0 at mainbus0 mbio: tme/generic/bus size 8MB
mbmem0 addr 0x00000 at mainbus0 mbmem: tme/generic/bus size 8MB
sc0 at mbmem0 addr 0x80000 ipl 2: tme/bus/multibus/sun-sc
scsibus0 at sc0: tme/scsi/bus
bwtwo0 at obmem0 addr 0x700000 ipl 4: tme/machine/sun2/bwtwo type obmem
zs1 at obmem0 addr 0x780000 ipl 6: tme/machine/sun2/zs
kbd0 at zs1 channel A: tme/serial/keyboard type sun-type-2 macros my-sun-macros.txt map sun-keyboards.txt
ms0 at zs1 channel B: tme/serial/mouse type mousesystems-5
display0 at bwtwo0: tme/host/gtk/display
display0 at kbd0
display0 at ms0
sd0 at scsibus0: tme/scsi/disk id 0 type tme-scsi-1
disk0 at sd0: tme/host/posix/disk file my-sun2-disk.img
st0 at scsibus0: tme/scsi/tape id 4 type emulex-mt02
tape0 at st0: tme/host/posix/tape

If the output contains all of these entries, the next step is to load the virtual tape into the tape drive (be sure to add any additional tape segments corresponding to additional binary sets that you want to install):

tmesh> command tape0 load my-tape/01 my-tape/02 my-tape/03 my-tape/04 my-tape/05 my-tape/06 my-tape/07 my-tape/08

Now you should be able to power up the emulated Sun 2:

tmesh> command mainbus0 power up

After a while (the Sun 2 PROM does a good memory test), you should see something like this: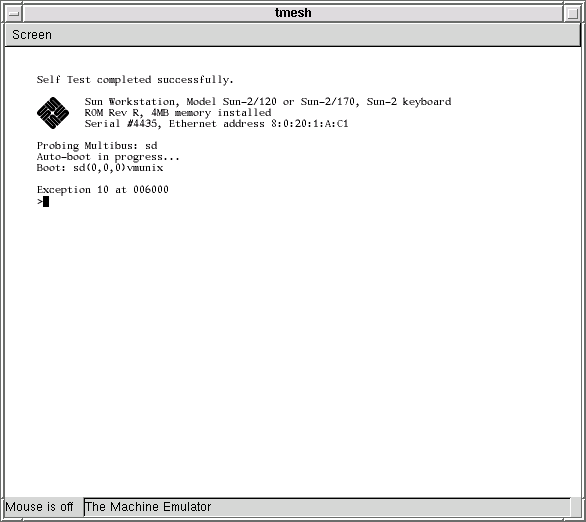 At the end of the output, the single > is the Sun PROM monitor prompt. The Exception error is normal - the PROM tried to automatically boot the virtual disk that you created earlier with dd. Because the disk is empty, the blocks that normally contain the bootstrap are undefined.
Now, tell the PROM to boot the tape. This is typed at the Sun PROM > prompt, not at the tmesh> prompt:

> b st()

After a short delay, the PROM should begin booting the virtual tape: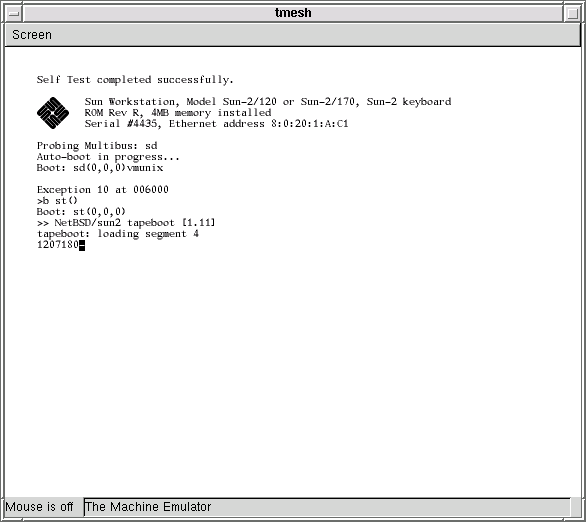 Once the RAMDISK kernel has been loaded into memory, it is relocated, and then booted. After the RAMDISK kernel has booted, it will display a welcome message and leave you at an ssh: (for "Simple Shell") prompt: