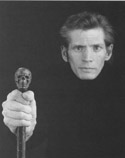 Cognition and the Visual Arts, 1995, Robert Solso MIT Press (next book on our list)
Vision Science: From photons to phenomenology, Palmer, MIT Press
Foundations of Vision, B. A. Wandell, Sinauer, 1995.
Visual Perception : Physiology, Psychology and Ecology, Vicki Bruce, P.R. Green and M.A. Georgeson, Psychology Pr, 3rd Edition, 1996.