GelSight Links
Thermoplastic elastomer
We recommend Ultraflex, available at artstuf.com.
The box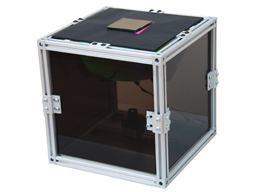 Our current setup is built from t-slot aluminum made by 80/20 Inc. Here is an approximate parts list:
13 equal lengths of the 1010 profile (1-inch wide) with tapped ends
One T joining plate, part #4080, used as a camera mount
8 corner connectors, part #4042, and corresponding bolt assembly, part #3017
T-nuts, double T-nuts, and triple T-nuts for 1/4-20 thread
Flanged button head socket cap screws in 1/4-20 thread
Dark acrylic panels for the sides
8 panel retainers, part #2494
80/20 sells many of these parts at their Ebay store.
Lights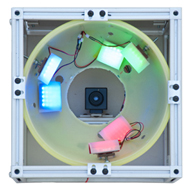 We use 5×5 LED arrays in red, green and blue from oznium.com. These are designed as replacement dome lights for a car and are pre-wired for 12 volts. We have used both the rigid and flexible versions. The lights are mounted in a large Tupperware bowl with a rim that fits snugly in the slot of the 1010 profile.
Camera
We use an industrial USB camera from The Imaging Source.