Joseph J. Lim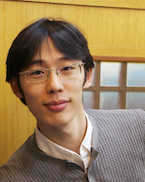 Office: SAL #214
E-mail: lim@csail.mit.edu

CV / Github / Google Scholar


I recently joined the University of Southern California (USC) as an assistant professor on January 1st, 2017. I am currently looking for students for Fall 2017. Please contact me via e-mail if you are interested in joining my lab.
Previously, I was a postdoctoral scholar at Stanford Artificial Intelligence Laboratory with the Computer Vision group led by
Professor Fei-Fei Li
. Before that, I completed my PhD at Massachusetts Institute of Technology under the guidance of
Professor Antonio Torralba
, and also had a half-year long postdoc under
Professor William Freeman
. I received my bachelor degree at the University of California - Berkeley, where I worked in the Computer Vision lab under the guidance of
Professor Jitendra Malik
. I also have spent time at Microsoft Research, Adobe Creative Technologies Lab, and Google.