How To Tie Neckties
I don't wear neckties very often, and unlike cut-offs, they don't just zip and button in the front. So I tend to forget what to do with them.
If you're like me, you might find the following chart handy. Some folks selling ties from a table in the MIT Student Center were handing out copies several years ago.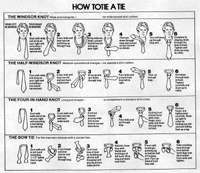 (220kb, 1200x1037 4bpp GIF87)
The directions are also available for each individiual knot. The chart shows how to tie a Windsor knot, a Half-Windsor, a Four-in-Hand, and the classy bow tie. (Each individual GIF is about 50kb.)
I hope this is as handy for you as it is for me.
---

Copyright 1997, Matthew J. Marjanovic, maddog@ai.mit.edu Last modified: Thu Jan 2 21:23:21 EST 1997