Pablo Jose Ortiz-Lampier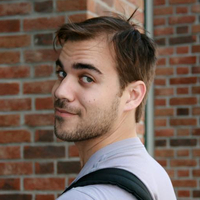 I was awarded a Ph.D. from the MIT Department of Electrical Engineering and Computer Science (EECS) in February 2021.
During my Ph.D., I was a member of the Imagination, Computation, and Expression (ICE) Lab and the Computer Science and Artifical Intelligence Lab (CSAIL). My thesis advisor was Prof. D. Fox Harrell.
In addition, I was affiliated with the MIT Center for Wireless Networks and Mobile Computing (wireless@MIT), the Li-Shiuan Peh (LSP) Group, and the Intelligent Transportation Systems (ITS) Lab.
Research Projects
For my dissertation, I studied how one might design online learning systems (e.g., edX, Coursera) to scalably support critical thinking. The major contributions of this research were a framework, grounded in roleplay theory and practice, for designing online learning systems that scalably support critical thinking and a method for effetively evaluating critical thinking at scale.
Dissertation aside, I have a broad range of interests, and this quality is reflected in the (non-exhaustive) list of projects I worked on while at MIT:
Selected Publications
Book Chapters
Conference Proceedings
Journals
Theses
Workshops