Etel Szolovits

Eger, Hungary
February 11, 1917
--
Los Angeles, California
May 2, 1999

Armin Szolovits

Derecske, Hungary
January 16, 1910
--
Boston, Massachusetts
June 25, 2000
My parents, Armin and Etel Szolovits, both passed away within a little more than a year of each other. A memorial service was held at the Hollywood Cemetery/Beth Olam Cemetery on June 25, 1999, for Etel Szolovits, better known as "Eta," or to her son, daughter-in-law and grandchildren as "Anyu," which means "Mom" in Hungarian. A year to the day later, my father, Armin, known to us as "Apu," died in Boston, Massachusetts, where we had persuaded him to move so that he could be closer to us. A memorial service was held for him on August 24, 2000, at the same cemetery.
Eta and Armin lived difficult but ultimately fulfilling lives, facing many of the challenges of Central European Jews in the twentieth century: anti-Semitism, the holocaust, communism, immigration, and a new life in America.
Since their retirement in the early 1970's, Eta and Armin led an active life of travel, reading, tinkering, and companionship with their large circle of friends in Los Angeles. In the past decade, Eta suffered from Parkinson's disease, and after osteoporosis led to two breaks and hip operations in 1995, she lost her independence. Armin took care of her for three years, but after he had a bout with pneumonia, they lived for the last year of her life in a retirement home in North Hollywood. She died unexpectedly in early May 1999, of a stroke. Armin moved to Newton, Massachusetts, on our account. His sadness over the loss of Eta colored much of his remaining time, and his deteriorating health led in the spring of 2000 to three hospitalizations with infections, which sapped his strength. He died of pneumonia on June 25, 2000.
For thirty-five years, my parents lived in Hollywood, on Ridgewood Place between Melrose Avenue and Santa Monica Boulevard, a block from Paramount Studios and the Hollywood Cemetery. It seemed particularly fitting, then, that they be buried at that cemetery. Both had asked to be cremated, hence it is their ashes that are buried at Beth Olam.
Both memorial services were well attended by many members of our family, both from the Szolovits side and the Fosters who were nearby, and all my parents' friends who were not themselves in the clutches of illness. The ceremonies were conducted by Rabbi Harry Silverstein, and my wife, my children and I spoke in Eta's honor in 1999 and in Armin's in 2000.
| | |
| --- | --- |
| Anyu's Memorial Service | Apu's Memorial Service |
| | |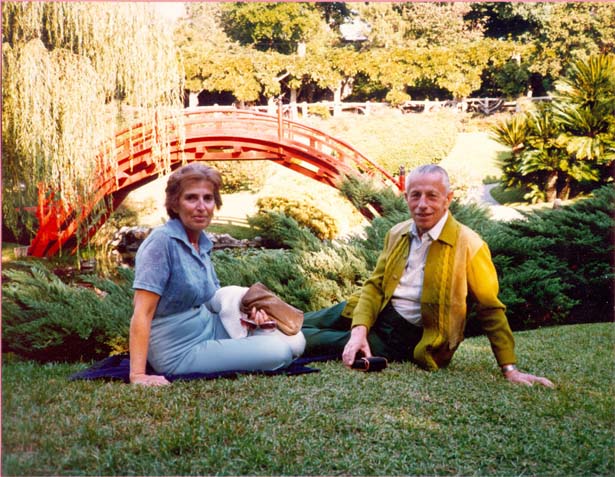 Photographs from Eta's Memorial Service