Sebastian Will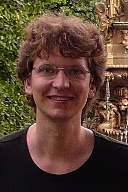 Instructor at Math Department, MIT
Email
wills@mit.edu
Mailing Address
Dr. Sebastian Will
Math Department, MIT, 02-155
77 Massachusetts Ave
02139 Cambridge, MA, USA
Room
02-155
Office Hours
by appointment
Up-to-date information is found here, nevertheless one still finds my (now slightly out-of-date) former homepage in Freiburg.
Biosketch
Since Sep 2011, Instructor at the Mathematical Department of MIT. Before since Jan 2010, Post-Doc in Bonnie Berger's Computation and Biology Lab at the Computation and Artificial Intelligence Lab (CSAIL) at the Massachusetts Institute of Technology (MIT), Cambridge, MA. Research Scholarship by DFG (German Research Foundation). Previously, post-doctoral researcher position in University of Freiburg at Rolf Backofen's Bioinformatics group. Study of biology and computer science at the Ludwig-Maximillians-University of Munich (LMU). Degree in Computer Science. PhD Fellowship of GKLI (PhD programme 'Graduiertenkolleg Logic in Computer Science') of the LMU until move to University of Jena. PhD (Dr.rer.nat., "Exact, Constraint-Based Structure Prediction in Simple Protein Models") at University Jena.
Research Interests
non-coding RNA, their identification, classification and comparative analysis
sequence-structure alignment of RNA and proteins
algorithms for complex RNA structure including pseudoknots
RNA-RNA interaction
sparsification of DP algorithms for RNA
locality of RNA alignment
protein structure prediction, evolution and energy landscapes
RNA and protein kinetics
constraints in bioinformatics, search and symmetry
constraint-based alignment
Publications
Find a list of my publications here and there.
Miscellaneous
Author/maintainer of the Software Package LocARNA for RNA sequence-structure alignment of RNA. LocARNA is free software and also accessible online as part of the Freiburg RNA Webserver.
Co-chair of WCB10 and previous workshops on constraints in bioinformatics.