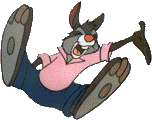 About Brier
About the Family
News and Updates
Photo Album
Contact
News and Updates
Toddler * Infant * Newborn * Pregnancy

Wednesday, May 26, 2010
1 year, 8 months, 14 days So many words. A household favorite is, "Lunch!" when he is asked to call his brothers in to eat. Brier has also started combining words to make sentences. The other day he pointed to an airplane and said, "Mama, more!" meaning he wants his mama to take him on another trip.

Tuesday, May 4, 2010
1 year, 7 months, 22 days Brier had a blast this past weekend visiting Disneyland with his family. His favorite ride was the carousel, followed closely by the Pirates of the Carribean.

Thursday, March 18, 2010
1 year, 6 months, 6 days Height: 33-3/4 inches. Weight: 23 pounds, 4 ounces.

Monday, February 8, 2010
1 year, 4 months, 27 days Brier and Mama are back from New York City, where they toured the Museum of Natural History, visited with dear friends, and hung out at swank restaurants in Hell's Kitchen. Both really enjoyed the trip and the time together, although Brier was not too thrilled about being left with a strange caregiver during the day while Mama had to work.

Thursday, January 28, 2010
1 year, 4 months, 16 days Brier loves kittens. He screams in delight whenever he sees Pandora, and the only thing he likes more than nursing is a YouTube video of cats meowing. Brier also loves shoes, of all shapes and sizes, and can often be found in nothing but his diaper and a pair of his big brother's Adidas. But most of all, Brier loves his big brothers and wants to be just like them. He insists on sitting on the bench at the dining table and, after much practice, can walk down stairs just like his brothers do. Many new words are being added to Brier's vocabulary. One of the more interesting is flashlight, clearly inspired by his brothers.

Sunday, December 13, 2009
1 year, 3 months, 1 day Brier was absolutely rapt on the carousel today, and thinks it was well worth braving the cold during the Jingle Bell Run to ride it.

Saturday, November 21, 2009
1 year, 2 months, 9 days Brier got his first haircut today, and now looks like such the little boy.

Thursday, October 15, 2009
1 year, 1 month, 3 days Brier and his Mama continue to travel a lot. The two of them went to Hawaii with the whole family in late August, Boston for the third time this year in September, and Victoria in October. And they are headed to Vancouver in a few weeks. Brier takes to traveling easily, but Mama's ready to stay home for a while.

Recent months have seen Brier really start to communicate well. He understands a lot of what is said to him, and is good at making his responses well understood. He shakes his head when he doesn't want something, gives an angry grunt when told no, and runs happily after his brothers when invited to play with them. He uses a handful of signs now and has started saying a few words. His favorite words (and some of his favorite things) all begin with B: bath, ball, and balloon.

Saturday, Septebmer 12, 2009
1 year A year ago today Brier was born at home, while his brothers slept quietly in the next room. Everything about welcoming Brier into the Teevan Hehmeyer family has been easy and delightful.