Let's play
Given some images from twelve popular object recognition datasets, can you match the images with the dataset? Drag the dataset names into the yellow boxes bellow each set of images. The score will appear once you have placed the 12 dataset names.












Drag and drop each dataset name on the yellow boxes

Four Stages of Dataset Grief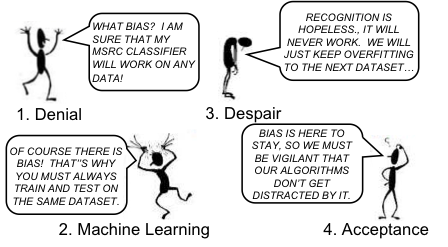 Download the paper
A. Torralba, A. Efros. Unbiased Look at Dataset Bias. IEEE Conference on Computer Vision and Pattern Recognition (CVPR), 2011. (pdf)
Acknowledgments
The authors would like to thank the Eyjafjallajokull volcano as well as the wonderful kirs at the Buvette in Jardin du Luxembourg for the motivation (former) and the inspiration (later) to write this paper. This work is part of a larger effort, joint with David Forsyth and Jay Yagnik, on understanding the benefits and pitfalls of using large data in vision. The paper was co-sponsored by ONR MURIs N000141010933 and N000141010934. No graduate students were harmed in the production of this paper. Authors are listed in order of increasing procrastination ability.
Unbiased Look at Dataset Bias
Antonio Torralba
MIT
Alyosha Efros
CMU