ICC Profiles for the Epson 3800 Advanced B&W Photo Driver
by Eric Chan

Last updated: April 12, 2010
---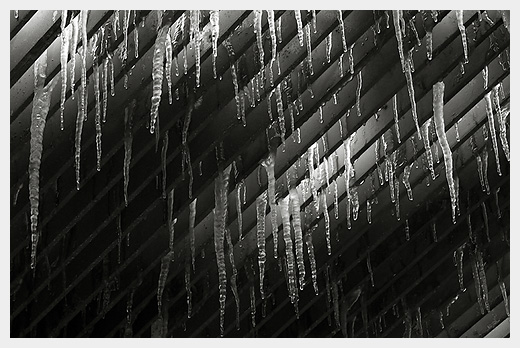 Icicles, Franconia Notch State Park, New Hampshire, March 2005
---
Overview
In an earlier article, I described how to build and use gray curves for the Epson Advanced B&W Photo (ABW) driver. These gray curves provide screen-to-print matching when printing B&W images through the ABW driver. However, they're inconvenient to use because (1) you have to remember to apply the gray curve (e.g., via an adjustment layer) prior to printing and (2) applying a gray curve is different from the usual color-managed workflow involving ICC printer profiles. In addition, if you print from an application such as Lightroom (as I do), then you can't use gray curves at all unless you first perform an inconvenient round-trip operation to Photoshop.

To address this problem, I have written a small software program that builds gray curves into ICC profiles. This makes it easy to get screen-to-print matching when using the ABW driver: you can use exactly the same workflow as when printing color images, from any printing application (Photoshop, Lightroom, etc.). The only difference is that you select an ABW profile instead of a RGB color profile.

I have built ICC profiles for the 3800 ABW driver for several papers and am making them publicly available. You may download them from the table below (free of charge).

Important Note: In general, these profiles will not work well for other Epson printer models, such as the R2400, R2880, 3880, 4800, 4880, etc. Different models use different inks and/or different screening methods. It doesn't hurt to try these profiles with other models, but please be aware that the tonality may be significantly off (e.g., your prints may come out way too light or way too dark). I have started building ABW profiles for the newer 3880 model and they are available for download on a separate page.
Download and Installation Instructions
Please download the appropriate ICC profile from the table below.

To install the profiles:
If you're on Windows, right-click on the .icc profile in Explorer and choose Install Profile from the popup menu.

If you're on Mac, drag them here: /Library/ColorSync/Profiles
Then restart your printing application (e.g., Photoshop, Lightroom) and you should see the profiles available in the Printer Profile popup menu.
Profiles and recommended driver settings
When using the provided profiles, be sure to use the Media Type and Tone settings listed below.
Use the Perceptual rendering intent (black point compensation doesn't matter).
Set the print quality to 1440 dpi for matte papers, 2880 dpi for photo papers.
Set the Platen Gap to Wide for all papers, except for Enhanced Matte (in which case use Auto).
Set the Paper Thickness according to the thickness listed in the paper specifications.
Disable (uncheck) High Speed, Finest Detail, and Edge Smoothing for all papers.
Leave all other driver settings (e.g., color density, drying time, paper feed adjustment, etc.) at their default values.
In the table below, the Media Type column lists the Media Type setting that you should choose in the ABW driver. I've used the following abbreviations:
PGPP = Premium Glossy Photo Paper
PLPP = Premium Luster Photo Paper
PSGP = Premium Semigloss Photo Paper
EEM = Enhanced Matte
VFA = Velvet Fine Art
USFA = Ultrasmooth Fine Art
WPRW = Watercolor Paper Radiant White
Similarly, the Tone column lists the Tone setting that you should choose in the ABW driver (Dark, Normal, or Light).
Using the Media Type and Tone settings that I've listed below is important, because I created the profiles using these settings.