ICC Profiles for the Epson 3880 Advanced B&W Photo Driver
by Eric Chan

Last updated: April 12, 2010
---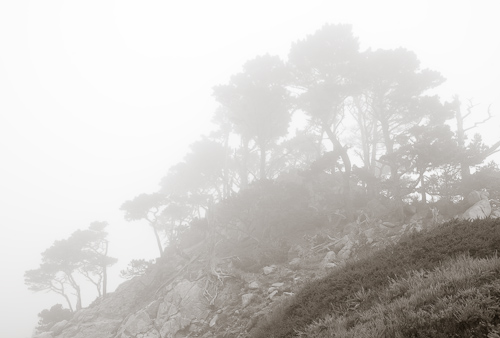 Point Lobos State Reserve, September 2009
---
Overview
Since 2007, I have been building ICC profiles for the Advanced B&W Photo (ABW) mode of the Epson 3800 printer. Those profiles, and some additional background info, are available on a separate page.

I have begun building ABW profiles for the newer Epson Stylus Pro 3880 model (which uses the UltraChrome K3 with Vivid Magenta ink set, and has a newer screening method and different driver behavior). These profiles should produce good results on a 3880, but in general will not perform well with other printer models (e.g., R2880, 3800, 4880, etc.). Different models use different inks and/or different screening methods. It doesn't hurt to try these profiles with other models, but please be aware that the tonality may be significantly off (e.g., your prints may come out way too light or way too dark).
Download and Installation Instructions
Please download the appropriate ICC profile from the table below.

To install the profiles:
If you're on Windows, right-click on the .icc profile in Explorer and choose Install Profile from the popup menu.

If you're on Mac, drag them here: /Library/ColorSync/Profiles
Then restart your printing application (e.g., Photoshop, Lightroom) and you should see the profiles available in the Printer Profile popup menu.
Profiles and recommended driver settings
When using the provided profiles, be sure to use the Media Type and Tone settings listed below.
Use the Perceptual rendering intent (black point compensation doesn't matter).
Set the print quality to 1440 dpi for matte papers, 2880 dpi for photo papers.
Set the Platen Gap to Wide for all papers, except for Enhanced Matte (in which case use Auto).
Set the Paper Thickness according to the thickness listed in the paper specifications.
Disable (uncheck) High Speed, Finest Detail, and Edge Smoothing for all papers.
Leave all other driver settings (e.g., color density, drying time, paper feed adjustment, etc.) at their default values.
In the table below, the Media Type column lists the Media Type setting that you should choose in the ABW driver. I've used the following abbreviations:
PGPP = Premium Glossy Photo Paper
PLPP = Premium Luster Photo Paper
PSGP = Premium Semigloss Photo Paper
EEM = Enhanced Matte
VFA = Velvet Fine Art
USFA = Ultrasmooth Fine Art
WPRW = Watercolor Paper Radiant White
Similarly, the Tone column lists the Tone setting that you should choose in the ABW driver (Darker, Dark, Normal, or Light).
Using the Media Type and Tone settings that I've listed below is important, because I created the profiles using these settings.