Teaching

In the fall, I teach 6.034, Introduction to Artificial Intelligence, a large class.
Grades are calculated in accord with several student-oriented principles. For example, because we want to encourage each student to compete with himself/herself and not with each other, we no longer compute a class average. Because anyone can have a bad day, each segment of the material is tested both in a quiz and on the final, and we only count the higher grade.
We who teach the subject are pleased to note that grades are correlated with attendance at lectures, quiz reviews, recitations, and tutorials.
Anticipating a shift of skill building to the on-line world, we have enriched the subject with what we call Right-now Talks, aimed at exposing exciting, up-to-the-minute research occuring at MIT.
In the spring, I teach 6.xxx (also known as 6.803 and 6.833), The Human Intelligence Enterprise, a class in which I focus on contributions that visionary thinkers have made toward developing a computational explanation of intelligence.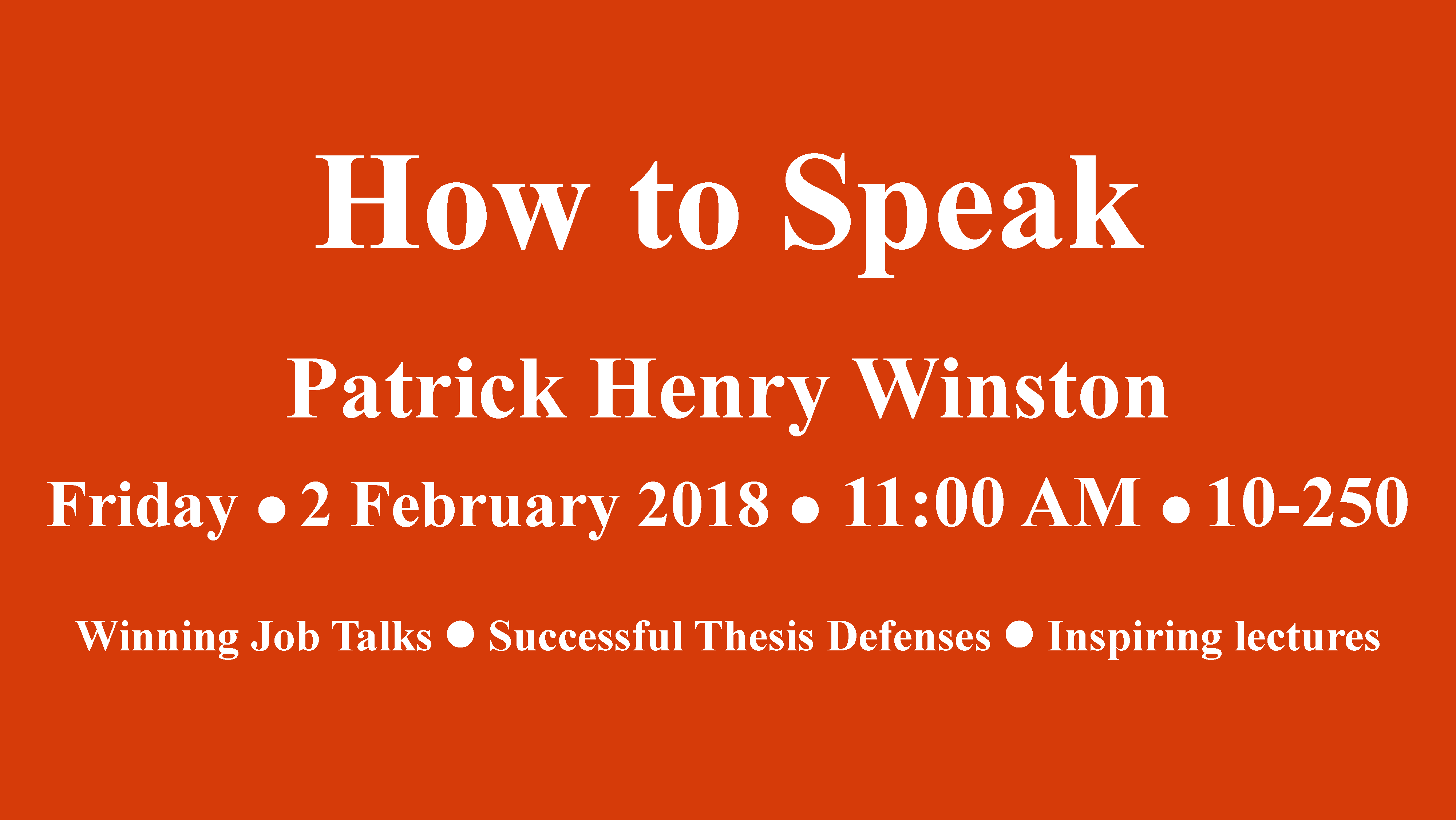 During the Independent Activities period, I talk on the subject of How To Speak. The talk helps people do a better job in lectures, theses defenses, and job talks.
10-250, The Center of the Universe. The next offering will be at 11:00 am, on Friday,
2 February 2018, in Room 10-250, The Center of the Universe.
If you can't wait, an aging version, lacking the latest material, is available from the Harvard Bok Center.

Awards

All of us involved in developing and teaching 6.034 and 6.xxx over the years are immensely pleased that our work on these subjects has been appreciated by students. Our collective efforts led to the 2011 Eta Kappa Nu Teaching Award for excellence in instruction, a MacVicar Faculty Fellowship in 2011, the Baker Award for undergraduate teaching in 2010, and the Graduate Student Council Teaching Award in 2006. Unknown, but heroic students went to a lot of trouble to make it happen.
We were also pleased to note that, according to a Bloomberg article, 6.034 is among Five of the Best Computer Science Classes in the U.S. Of course, what they meant to say was that 6.034 has had graduate-student teaching assistants that are consistently outstanding. Jessica Noss, for example, was the 2016 winner of the EECS Carlton E. Tucker Award for outstanding teaching as a graduate-student teaching assistant.