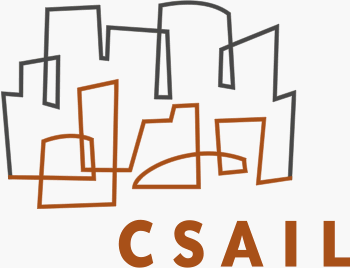 Contact Information
32 Vassar Street, G-696
Cambridge MA 02139.
Phone:
vinodv at csail dot mit dot edu
Projects
Fully Homomorphic Encryption
Leakage-resilient Cryptography
Lattice-based Cryptography
Distributed Algorithms
Vinod Vaikuntanathan
I am a Steven and Renee Finn Career Development Assistant Professor in the EECS department at MIT.
Other current and previous positions:
I am primarily interested in Theoretical Cryptography. I maintain research interests in distributed algorithms as well as computer security.
My Curriculum Vitae [
pdf
]
---
News and Links | Courses | Program Committees | Publications
News and Links
Schedule for Fall 2013
[Past]
Talk at Allerton Workshop on Topics in Cryptography, Oct. 3, 2013.
Talk at the Faces of Modern Cryptography workshop, New York City, Oct. 4, 2013.
Courses
[Fall 2013] 6.892: Computing on Encrypted Data at MIT.


[Spring 2013] MAT 302 at UT Mississauga.
[Spring 2013] CSC 2419 Advanced Topics in Cryptography at St. George.
[Spring 2012] MAT 302 (Algebraic Cryptography) at UT Mississauga.
[Fall 2011] CSC 2414 (Topics in Applied Discrete Math: Lattices in Cryptography and Cryptanalysis) at UT St. George.
Students
Sergey Gorbunov (M.Sc. 2012, Ph.D. ongoing)
Dhinakaran Vinayagamurthy (M.Sc. ongoing)
Program Committees
ACM STOC 2014,
CRYPTO 2014,
Innovations in Theoretical Computer Science (ITCS) 2014,
Theory of Cryptography Conference (TCC) 2014,
Asiacrypt 2013,
Public Key Cryptography (PKC) 2013,
CRYPTO 2012,
Eurocrypt 2012,
Theory of Cryptography Conference (TCC) 2012,
CRYPTO 2010,
Theory of Cryptography Conference (TCC) 2010,
Asiacrypt 2010,
Security and Cryptography in Networks (SCN) 2010


Conference and Journal Publications
Manuscripts

2014

Lattice-based FHE as Secure as PKE
Z. Brakerski and V. Vaikuntanathan
ITCS 2014. [Crypto eprint]

2013

Tight Bounds for Set Disjointness in the Message-Passing Model
M. Braverman, F. Ellen, T. Pitassi, R. Oshman and V. Vaikuntanathan
FOCS 2013. [ArXiv]


Functional Encryption: New Perspectives and Lower Bounds
S. Agrawal, S. Gorbunov, V. Vaikuntanathan and H. Wee
CRYPTO 2013. [ IACR Eprint Archive]


Overcoming the Worst-case Curse for Cryptographic Constructions
S. Goldwasser, Y. Kalai, R. Popa, V. Vaikuntanathan and N. Zeldovich
CRYPTO 2013. [ IACR Eprint Archive]


Attribute-based Encryption for Circuits
S. Gorbunov, V. Vaikuntanathan and H. Wee
STOC 2013.
Invited to the SIAM Journal of Computing Special Issue


Succinct Functional Encryption and Applications: Reusable Garbled Circuits and Beyond
S. Goldwasser, Y. Kalai, R. Popa, V. Vaikuntanathan and N. Zeldovich
STOC 2013.
IACR Eprint Archive
Invited to the SIAM Journal of Computing Special Issue


On Continual Leakage of Discrete Log Representations
S. Agrawal, Y. Dodis, V. Vaikuntanathan and D. Wichs
Asiacrypt 2013.
IACR Eprint Archive


Private Channel Models in Multiparty Communication Complexity
F. Ellen, T. Pitassi, R. Oshman and V. Vaikuntanathan
Brief Announcement: DISC 2013.



2012

Functional Encryption with Bounded Collusions via Multi-Party Computation
S. Gorbunov, V. Vaikuntanathan and H. Wee
CRYPTO 2012.


On-the-Fly Multiparty Computation on the Cloud via Multikey Fully Homomorphic Encryption
A. Lopez-Alt, E. Tromer and V. Vaikuntanathan
To appear in STOC 2012


An Inspection-Resistant On-chip Memory Architecture
Jonathan Valamehr, Melissa Chase, Seny Kamara, Andrew Putnam, Tim Sherwood, Dan Shumow and V. Vaikuntanathan
To appear in the International Symposium on Computer Architecture ISCA 2012.
IEEE Micro Top Picks in Computer Architecture 2013.


Efficient Password Authenticated Key Exchange via Oblivious Transfer
R. Canetti, D. Dachman-Soled, V. Vaikuntanathan and H. Wee
To appear in Public Key Cryptography (PKC) 2012


Fuzzy Identity-based Encryption from Lattices
S. Agrawal, X. Boyen, P. Voulgaris, V. Vaikuntanathan and H. Wee
To appear in Public Key Cryptography (PKC) 2012


Multiparty Computation with Low Communication, Computation and Interaction via Threshold FHE
G. Asharov, A. Jain, A. Lopez-Alt, E. Tromer, V. Vaikuntanathan and D. Wichs
To appear in Eurocrypt 2012
[ a merge of this and this ]


Collusion-resistant Obfuscation and Functional Re-encryption
N. Chandran, M. Chase and V. Vaikuntanathan
To appear in TCC 2012 [ pdf]


How to Delegate and Verify in Public: Verifiable Computation from Attribute-based Encryption
B. Parno, M. Raykova and V. Vaikuntanathan
To appear in TCC 2012 [ pdf]


Fully Homomorphic Encryption without Bootstrapping
Z. Brakerski, C. Gentry and V. Vaikuntanathan
Innovations in Theoretical Computer Science (ITCS) 2012 [pdf]
Invited to the Special Issue of the ACM Transactions on Computation Theory.



2011

Functional Encryption for Inner Product Predicates from Learning with Errors
S. Agrawal, D. Freeman and V. Vaikuntanathan
Asiacrypt 2011 [pdf]


Efficient Fully Homomorphic Encryption from (Standard) LWE
Z. Brakerski and V. Vaikuntanathan
FOCS 2011 [pdf]
Invited to the Special Issue of the SIAM Journal of Computing. [ SICOMP Submission ]


Can Homomorphic Encryption be Practical?
K. Lauter, M. Naehrig and V. Vaikuntanathan [working draft]
ACM Cloud Computing Security Workshop (CCSW) 2011.


Fully Homomorphic Encryption from Ring LWE and Security for Key Dependent Messages
Z. Brakerski and V. Vaikuntanathan
CRYPTO 2011


Round-optimal Password-based Key-exchange
J. Katz and V. Vaikuntanathan
TCC 2011
Invited to the Special Issue of the Journal of Cryptology.



2010

A Group Signature Scheme from Lattice Assumptions
S. Dov Gordon and J. Katz and V. Vaikuntanathan
Asiacrypt 2010.


Cryptography against continual Memory Leakage
Z. Brakerski, Y. Kalai, J. Katz and V. Vaikuntanathan
FOCS 2010.
Cryptology Eprint Archive.


i-hop Homomorphic Encryption Schemes
C. Gentry, S. Halevi and V. Vaikuntanathan
Cryptology Eprint Archive.
CRYPTO 2010.


Fully Homomorphic Encryption from Integers
M. van Dijk, C. Gentry, S. Halevi and V. Vaikuntanathan
Cryptology Eprint Archive.
Eurocrypt 2010.
Invited to the Special Issue of the Journal of Cryptology.


A Simple BGN-Style Encryption Scheme from LWE
C. Gentry, S. Halevi and V. Vaikuntanathan
Eurocrypt 2010.


Protecting against Computationally Bounded and Noisy Leakage
S. Faust, T. Rabin, L. Reyzin, E. Tromer and V. Vaikuntanathan
Eurocrypt 2010.


Robustness of the Learning with Errors Assumption
S. Goldwasser, Y. Kalai, C. Peikert and V. Vaikuntanathan
Innovations in Computer Science (ICS) 2010. [pdf]


Public-key Encryption Schemes with Auxiliary Inputs
Y. Dodis, S. Goldwasser, Y. Kalai, C. Peikert and V. Vaikuntanathan
Theory of Cryptography Conference (TCC) 2010. [pdf]



2009

Signature Schemes with Bounded Leakage Resilience
J. Katz and V. Vaikuntanathan
Asiacrypt 2009. [pdf]


Smooth Projective Hashing and Password-based Authenticated Key-exchange from Lattices
J. Katz and V. Vaikuntanathan
Asiacrypt 2009. [pdf]


Cryptography against Memory Attacks
A. Akavia, S. Goldwasser and V. Vaikuntanathan
TCC 2009. [pdf]


Weak Verifiable Random Functions
Z. Brakerski, S. Goldwasser, G. Rothblum and V. Vaikuntanathan
TCC 2009. [pdf]


How Efficient Can Memory-Checking Be?
C. Dwork, M. Naor, G. Rothblum and V. Vaikuntanathan
TCC 2009. [pdf]



2008

Trapdoors for Hard Lattices, and New Cryptographic Constructions
C. Gentry, C. Peikert and V. Vaikuntanathan
STOC 2008 [pdf]


A Framework for Efficient and Composable Oblivious Transfer
C. Peikert, V. Vaikuntanathan and B. Waters
CRYPTO 2008 [pdf]


Non-Interactive Statistical Zero-knowledge for Lattice Problems
C. Peikert and V. Vaikuntanathan
CRYPTO 2008 [pdf]


Adaptive One-way Functions and Applications
O. Pandey, R. Pass and V. Vaikuntanathan
CRYPTO 2008 [pdf]



2007

Securely Obfuscating Re-encryption
Susan Hohenberger, Guy Rothblum, abhi shelat, and Vinod Vaikuntanathan
Theory of Cryptography Conference TCC 2007
Journal of Cryptology (by Invitation)
[Full Version ps, pdf]


Secure Computation from Random Error-Correcting Codes
R. Cramer, H. Chen, S. Goldwasser, R. de Haan and V. Vaikuntanathan
Eurocrypt 2007 [ps, pdf]


Bounded CCA2-Secure Encryption
R. Cramer, G. Hanaoka, D. Hofheinz, H. Imai, E. Kiltz, R. Pass, A. Shelat and V. Vaikuntanathan
Asiacrypt 2007 [ps, pdf]


Relations Among Notions of Non-Malleability for Encryption
R. Pass, A. Shelat and V. Vaikuntanathan
Asiacrypt 2007 [ps, pdf]



2006

Construction of a Non-Malleable Encryption Scheme From Any Semantically Secure One
R. Pass, A. Shelat and V. Vaikuntanathan
Crypto 2006 [ps, pdf]


Fault-tolerant Distributed Computing in Full-Information Networks
S. Goldwasser, E. Pavlov and V. Vaikuntanathan
FOCS 2006 [ps, pdf]


Byzantine Agreement in the Full-Information Model in O(log n) Rounds
M. Ben-Or, E. Pavlov and V. Vaikuntanathan
STOC 2006 [ps, pdf]



2005

Distributed Computing With Imperfect Randomness
S. Goldwasser, M. Sudan and V. Vaikuntanathan
DISC 2005 [ps, pdf]


Broadcast in Radio Networks in the Presence of Byzantine Faults
V. Vaikuntanathan
Brief Announcement : PODC 2005 [Full Version ps, pdf]



2004

Information Leak in the Chord Lookup Protocol
C.W. O'Donnell and V. Vaikuntanathan
P2P 2004 [ps, pdf]



2003

Distributed Consensus in the Presence of Sectional Faults
A. Aiyer, I. Sanketh, K. Srinathan, V. Vaikuntanathan and C. Pandu Rangan
PODC 2003 [ps, pdf]


Efficient Perfectly Secure Communication over Synchronous Networks
K. Srinathan, V. Vaikuntanathan and C. Pandu Rangan
PODC 2003 [ps, pdf]


Position Papers
Trustworthy from Silicon Up
Melissa Chase, Seny Kamara, Andrew Putnam, Tim Sherwood, Dan Shumow and Vinod Vaikuntanathan
To appear in New Directions in Computer Architecture 2011.


Policy Hiding for Private Handling of Sensitive Encrypted Data
Nishanth Chandran, Melissa Chase, Kristin Lauter and Vinod Vaikuntanathan