Wrapup
---
We are grateful for everyone's help making NERC a successful event! We had great turnout, with more than 150 people attending from 38 organizations.

Participants attended from the following 21 universities:
Boston University
Bowdoin College
CMU
Columbia University
Cornell University
Drexel University
Franklin W. Olin College of Engineering
Georgia Tech
Harvard University
MIT
Roger Williams University

Rutgers University
The Cambridge School of Weston
Tufts University
University of Massachusetts, Amherst
University of Massachusetts, Lowell
University of New Hampshire
University of Pennsylvania
Wesleyan University
Worcester Polytechnic Institute
Yale University


... and the following 16 companies and laboratories:
Barrett Technology, Inc.
Draper Lab
Harvest Automation
HStar Technologies
Hydra Intelligent Systems
iRobot Corp.
Jaybridge Robotics
Kinova
Kiva Systems
MIT Lincoln Laboratory

Rethink Robotics
Scientific Systems Company
Special Project Initiatives Team, LLC
Symbotic LLC
Vecna Technologies
Woods Hole Oceanographic Institution





... with turnout from all over the northeast: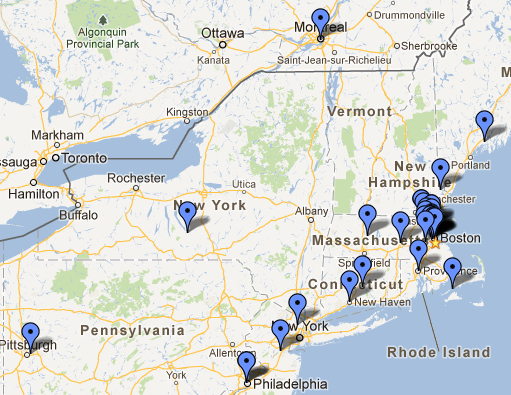 Overview
---
Robotics is poised for rapid and dramatic growth in the coming decade as technical advances, the growing availability of talented and highly-trained roboticists, and falling hardware costs combine to render many real-world applications, involving ever more complex systems, feasible.
Robotics is also an unusual field in that its progress depends directly on sustained technology and skill transfer between academia and industry, and between different industry sectors. The northeast is dense with world-leading universities, cutting edge robotics research laboratories, and robotics companies - yet there are very few events where roboticists from all of these institutions can mix freely and forge productive local collaborations.
The Northeast Robotics Colloquium aims to bring together all of the many varieties of robotics practitioners in the northeastern United States, in an event that is simultaneously a research meeting, a networking and job-fair event, and a showcase for established and up-and-coming robot companies. Ultimately, we hope to promote the kind of healthy and well-connected robotics community that will be essential in fueling the field's rapid growth in the coming decade.
Call for Participation
---
We invite all roboticists to attend the first annual Northeast Robotics Colloquium at the Stata Center, MIT CSAIL, 32 Vassar Street, Cambridge MA 02139 on October 20th, 2012.
The colloquium will feature invited research talks by leading local academics, robotics industry booths and demos, career and networking opportunities, and the opportunity to meet and mix with other area roboticists. Academic and industrial research labs will have the opportunity to present their work at a poster session.
Invited Speakers
---
David Barrett, Olin.
Rodney Brooks, Rethink Robotics.
Tomas Lozano-Perez, MIT.
Dana Yoerger, Woods Hole Oceanographic Institution.
Important Dates
---
| | |
| --- | --- |
| Registration Deadline | October 10th 2012 |
| Colloquium | October 20th 2012 |
Registration
---
The registration website is here. There is a $50 ($10 for undergraduates) registration fee.
Registration is CLOSED.
Program
---
| | |
| --- | --- |
| 09:00am - 09:45am | Registration |
| 09:45am - 10:00am | Welcoming Remarks |
| | |
| 10:00am - 11:00am | Invited Talk: Dave Barrett |
| 11:00am - 11:15am | Sponsor Spotlight: Jaybridge Robotics |
| | |
| 11:15am - 12:15pm | Interactive Session: Posters & Industry Exhibits |
| | |
| 12:15pm - 01:15pm | Invited Talk: Tomas Lozano-Perez |
| | |
| 01:15pm - 03:00pm | Lunch (Provided) |
| | |
| 03:00pm - 04:00pm | Invited Talk: Rodney Brooks |
| | |
| 04:00pm - 05:00pm | Interactive Session: Posters & Industry Exhibits |
| | |
| 05:00pm - 06:00pm | Invited Talk: Dana Yoerger |
| 06:00pm - 06:15pm | Closing Remarks |
More information about the invited speakers, posters, and industry exhibits can be found in the program booklet.
Parking
---
Parking is available for free at any of the following non-gated MIT lots:
You can also park in the West Garage for $5 and in any of the metered spots on Vassar St.
Organizing Committee
---
Stefanie Tellex, MIT CSAIL
George Konidaris, MIT CSAIL
Matthew Walter, MIT CSAIL
Brian Scassellati, Yale

---
NERC 2012 is very grateful for the support received from its sponsors: