18 May 2016 S+7 D Dos Equis
One week post surgery. Alas, they won't let me go around with any kind of speed on the walker. It's more like a wedding march: left foot forward, bring right foot next to left foot, move the walker, right foot forward, bring left foot next to right foot, move the walker, repeat.
Every once in a while, while up for PT, I run into the friendly local robot, Emmy, who delivers drugs. Strangely, they don't trust her with opioids.
A new nurse shows up. "How to you take your Mirilax? Orange juice?"
"I don't always use Mirilax, but when I do, I mix it into a glass of Dos Equis."
She looks at me funny. I guess she never saw the most-interesting-man-in-the-world ads.
The nice thing about the torn-tendon problem is that you do get all better and back to normal. I'm planning my next 5k (slow) run for on or about 1 October 2016. Meanwhile, around about August, my effective but boring elliptical machine will start to get some persistent exercise.
20 May 2016 S+9 D Autograph

By convention, my surgeon initialed each leg with a Sharpie before I got wheeled into surgery. In my case it didn't matter, but if you are having just one leg done, they want to be sure they don't open up the good one by mistake.
I've been taking pictures of the incisions when they change the dressings but Karen won't let me post them. Of interest are lines drawn across the incision areas before the work begins. The lines are there to help them line up the sides when they staple you back together. Yep, staples.
21 May 2016 S+10 D Liberation day
Time to go home. I am now a thoroughly trained patient.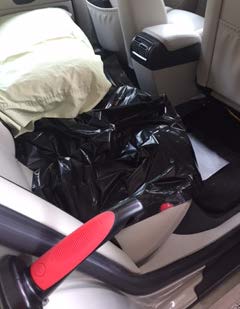 Because I can't bend my legs, getting into a car the usual way is out of the question. Instead, I'm loaded into the back seat, crosswise, like a log. An attendant holds my legs up while I skooch in. The garbage bag helps me slide. Alas, no seatbelt protection is possible in this configuration, so I won't be making any optional trips for a while.
The red gadget is a must-have handle that fits into the door latch. It's called a car cane. Get one now, before you need it.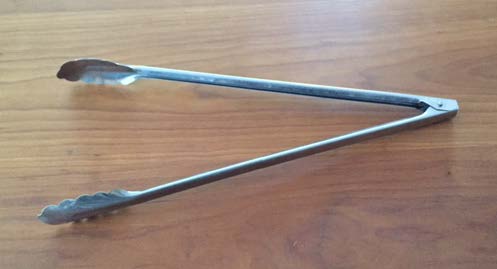 And by the way, for your well-equipped walker, you need these. Simple, effective. Borrow them from the kitchen. You need them to pick up stuff you drop on the floor.