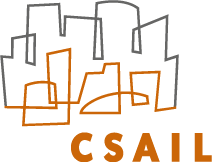 Siamak Tazari
Email: "id (see URL of this page)" at mit dot edu
Work number: (+1) 617-258-5791
Fax number: (+1) 617-258-8682
Mailing address:
MIT Computer Science and Artificial Intelligence Laboratory
32 Vassar Street, 32-G578
Cambridge, MA 02139
USA

I am a postdoc in the theory of computation group at MIT working with Erik Demaine. I obtained my PhD in computer science from Humboldt-Universitšt zu Berlin in August 2010, supervised by Martin Grohe.
My main research interests are:
Algorithmic graph structure theory, esp. planar graphs, graphs on surfaces, and graph minors
Graph algorithms, esp. network design and approximation schemes
Parameterized complexity theory, esp. in connection with logic
Algorithmic game theory
Implementation and engineering of theoretical algorithms
See my publications page for further details and previous projects.


I have also been continuosly involved in teaching ever since my first undergraduate year.

I am co-teaching 6.889 Algorithms for Planar Graphs and Beyond at MIT this term!

The lectures are being video taped and are available online.

In particular, I have given the following lectures: L05, L06, L07, L09, L10, L16, L17, L22, L24.