Associating the visual and tactile properties of fabrics
Collaborator: Shaoxiong Wang
[
Dataset
]
Humans learn rich information about tactile properties through both vision and touch. In this project, we study fabrics, whose properties are more important than the identity: different fabrics could have very close properties, thus have very similar look and feelings. We aim to answer a question: given a touch image of a fabric, can a robot predict what it may look like, or pick up the most possible appearance from several candidates? We represent each fabric with an embedding, and design a joint CNN to generate the embeddings automatically. The embeddings are expected to be functions of the fabrics' physical properties, but not the exact appearance; the same fabrics, or similar fabrics, will have very similar embeddings.

​We collect 118 fabrics for the experiment, and drape the fabrics on a cylindrical post and take images (both color images and depth images); for the tactile data, we press the GelSight sensor on the fabrics, either on the flat folds or on the random positions on the fabrics. The same fabric has different appearance when draping from the same post for different times, and been touched at different time. The following figures shows and example of two fabrics and their visual or tactile data:

Here is how we collect the tactile data on the folds: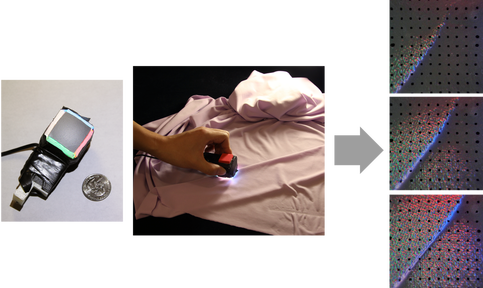 We take depth image of the fabrics as the visual input, and the GelSight data of pressing on the flat folds of the fabrics as the tactile input. The joint neural network architecture is shown in left figure: we use the Alex Net as the CNN, and using the fc7 layer of the network as the embeddings to represent the fabric. We also design two more complicated networks, shown in the right figure below, which proved better performance. The cluster in the networks are the k-mean cluster based on human subject estimation on the fabrics.
We test the network performance by asking it to rank the possibility of the 10 candidate depth images matching the given GelSight input images. The following figure shows an example of how the test works. For the multiple-input-with-auxiliary network, the chance of it ranking the correct image as top1 is 0.485, and top 3 is 0.842, compared to the random chance of 0.1 and 0.3.