Gerald Dalley's MIT Home Page
Until I graduated in the summer of 2009,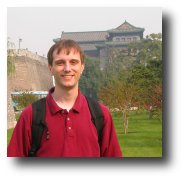 I was a Ph.D. student studying Computer Vision in the Activity Perception Project group at the Massachusetts Institute of Technology. My research interests include the intersection of visual tracking, object recognition, and machine learning.
Post-graduation, I accepted a position at D. E. Shaw & Co. as a quantitative developer (a hybrid position that lies between a software developer and a quantitative analyst).
Contact Information
Gerald Dalley
dalleyg@ieee.org
Teaching and Recent Pre-Graduation Extra-Curricula
During the Spring 2007 semester, I was a recitation instructor for 6.001, MIT's exciting and fast-paced introductory course to computer science. My 6.001 page has copies of handouts, announcements, and helpful links for the course. The information will be most helpful for those using the Scheme programming language (note that starting in 2007, MIT transitioned to Python).
For the 2006-2007 academic year I served as co-chair of the Graduate Student Council's Housing and Community Affairs Committee. The HCA committee is the main advocacy branch of the GSC. The committee's work focuses on ensuring that the MIT graduate experience is enjoyable, affordable, safe, healthy, and marked by a welcoming community. A large portion of the work carried out by the HCA is done through a set of subcommittees, each of which focuses on a particular aspect of student life.
Publications
Recent Talks