Contents
---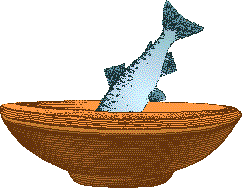 | | |
| --- | --- |
| 1 lb. | canned salmon |
| 1/2 t. | liquid smoke |
| 1 T. | horseradish |
| 1 T. | lemon juice |
| 1/2 lb. | cream cheese |
| 2 T. | mayonaise |
| 1 T. | dry parsley |
Mix. Serves 16-20 as hors d'oeuvres, 8 as first course, 1 if Smith is present.
The Froog
(Jeff Smith, ``The Frugal Gourmet'')
Can omit liquid smoke. Can substitute lots of black pepper for horseradish. If you don't have fresh parsley, use frozen parsley, not dry -- buy it fresh, chop it, and store it in your freezer.

---
Appetizers | Soups | Salads | Main Dishes | Vegetables | Breads, etc. | Cakes and Pies | Cookies | Other Desserts | Drinks | Thanksgiving Dinner | Spice Advice | Colophon | Copyright

Back to Favorite Recipes of the Menagerie.

Last modified Dec 16, 1996, Sue Felshin