Contents
---
| | | | |
| --- | --- | --- | --- |
| 1 lb. | ground beef, better up to 2 lbs. | 1 | egg, beaten |
| 1/2 c. | chopped onion | 2 T. | chopped parsley |
| 1 c. | grated cheddar | | Biscuit Dough (see below) |
Cook meat and onion slowly, but do not brown. Stir while cooking to break up meat. Take from heat. Let cool (make dough now), then mix with cheese, egg, parsley. Divide dough in half. Roll or pat each half into 9″ square. Put one half in square pan, 9x9x1-3/4. Spread with meat mixture, cover with other biscuit square. Bake about 30 minutes at 400°F. Serve hot in squares with tomato, mushroom, or white sauce. I usually use cream of chicken soup only slightly diluted.
---
| | | | |
| --- | --- | --- | --- |
| 2 c. | sifted flour | 1/2 c. | shortening |
| 1 T. | baking powder | 1 | egg, beaten |
| 1/2 t. | salt | 1/2 c. | milk |
Sift flour, baking powder, salt into bowl. Cut in shortening. Stir in egg, milk. Round up on slightly floured board. Knead lightly about 10 times.
---

| | |
| --- | --- |
| 1 | pork chop per person |
| | canned peach halves to match |
| | muenster, mozzarella, cheddar, or whateversaround |
Bread chops in seasoned flour. (Try pepper, garlic powder, coriander, ginger, dry mustard, nutmeg, cinnamon?, clove?) Fry in butter ~5 min. Bake chops on cookie sheet with peach half on each, at 350°F, half an hour for thin chops, longer for thicker. Place thick slice of cheese (~1/2 in.) on top of each peach and chop 5-10 min. before done.
If you substitute peach slices, you have pork chops over hard.
Works equally well with chicken. Substitute one half chicken breast, pounded flat, for each chop. Try gruyère cheese.
---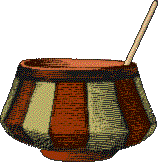 (A stirring rendition)

From Gourmet Magazine, Nov, '85

Serves 6-8

For the meatballs:
1
onion, minced
2
large eggs, beaten lightly
1/4 c.
veg. oil
1/2 c.
raisins
1
tomato, peeled, seeded & chopped
2 c.
bread crumbs
1
jalapeño chili, seeded, peeled & omitted
1/3 c.
fresh grated Parmesan
3/4 lb.
ground veal
seasoned flour
3/4 lb.
ground chuck
For the sauce:
1-1/2 c.
brown stock
1
onion, minced
1-1/2 c.
dry red wine
2 T.
veg. oil
1 t.
cumin (omit)
1 T.
flour
1
bay leaf
In a small saucepan cook the onion in 2 T. of the oil over moderate heat, stirring, for 3 minutes, or until it is softened, add the tomato, (the jalapeño chili,) and a pinch of sugar, and simmer the mixture, stirring, for 10 minutes, or until thickened. Let the mixture cool.
Make the sauce: In a large skillet cook the onion in the oil over moderately low heat, stirring, for 3 minutes; add the flour and cook the roux, stirring, for 3 minutes. Add in a stream the stock and the wine, stirring, and stir in the cumin, the bay leaf, and salt & pepper to taste. Bring the liquid to a boil, stirring (yes, still), and simmer for 10 minutes.
Back to the meatballs: In a large bowl combine well the veal, chuck, eggs, raisins, Parmesan, bread crumbs, tomato mixture, and salt and pepper to taste and form the mixture into 2" meatballs. Dredge them in seasoned flour, shaking off excess, and brown in batches in a skillet in the remaining 2 T. of oil over moderately high heat, transferring as browned to skillet containing sauce. Bring sauce to boil & simmer meatballs covered for 30 min. Transfer meatballs to serving dish (serve on noodles) & keep warm while reducing sauce over high heat by 1/3. Pour sauce over meatballs.
---

1 lb.
hamburger
black pepper to taste
1/4 lb.
bulk pork sausage
1-1/2 - 3 t.
chili powder, optional
1 small
onion, chopped
1 c.
cornmeal
1 clove
garlic, finely chopped
1 c.
milk
1 lb.
canned whole tomatoes
2
eggs, well beaten
1 lb.
whole kernel corn
1 c.
shredded Cheddar cheese
20-24
pitted olives, optional
Cook and stir hamburger, pork sausage (can subst. hamburger), onion and garlic until meat is brown; drain. Stir in tomatoes, with liquid, corn, olives, pepper, and chili powder (if omitted use lots of pepper). Heat to boiling. Pour into ungreased baking dish, 9x9x2 or equivalent size (tends to overflow; I used a 9x13 pan to good effect, increasing the cheese somewhat —Sue).

Mix cornmeal, milk and eggs; pour over meat mixture. Sprinkle with cheese. Cook in 350°F oven until golden brown, 40 to 50 minutes. Garnish with parsley sprigs and black olives if desired. 8 servings.

---

| | |
| --- | --- |
| 8 slices | day old bread |
| 1/2 lb. | sharp cheddar cheese, sliced |
| 4 | eggs |
| 2 1/2 c. | milk |
| 1/2 t. | prepared mustard |
| 1 T. | chopped onion |
| | salt and pepper to taste |
Trim crusts from 5 slices of the bread; cut in half diagonally. Use trimmings and remaining 3 slices untrimmed bread to cover bottom of 8- or 9-inch square baking dish. Top with cheese. Arrange the 10 trimmed "triangles" in 2 rows atop the cheese. (Points should overlap bases of preceding "triangles.") Beat eggs; blend in milk, mustard, onion, salt, and pepper; pour over bread and cheese. Cover with waxed paper; let stand 1 hour at room temperature or several hours in fridge. Bake at 325°F for 1 hour or until knife inserted halfway between center and edge comes out clean. Let stand 5 minutes before serving. Makes 6 servings.
---

| | |
| --- | --- |
| 2 T. | olive oil |
| 1/4 c. | flour |
| 1 T. | paprika |
| 1 t. | garlic salt |
| 4 | boneless chicken breast halves |
| 1? c. | dry red? wine |
| 1 T. | fresh basil, finely minced |
| 1 T. | fresh rosemary, finely minced |
| 1 c. | sour cream |
| 1 c. | freshly cooked rice |
| | chopped fresh parsley |
Heat oil in large skillet over medium-high heat. Combine flour, paprika, and garlic salt in shallow dish. Dredge chicken in flour, shaking off excess. Add to skillet and cook until golden brown, 3 to 4 minutes per side. Remove from skillet. Increase heat to high. Add wine, basil, and rosemary, and cook, stirring frequently, until liquid is reduced to 1/2 cup, about 10 minutes. Reduce heat to medium-high. Return chicken to skillet and cook until tender, 2 to 3 minutes. Remove using slotted spoon; keep warm. Add sour cream to skillet and stir until sauce is heated through, 1 to 2 minutes. Mound rice (or use noodles) in center of serving platter and sprinkle with parsley. Pour sauce around rice. Arrange chicken atop sauce. Serve immediately.
| | |
| --- | --- |
| | —Some cooking magazine of Stuart & Catherine's |
---

Well, you see, Jim asked me what I thought I was making for dinner, and I said, what I think I'm making, is I'm taking 4 boneless, skinless, split chicken breasts, pounding them flat,* dipping them in egg, breading them in about a half cup each flour, breadcrumbs and parmesan with some black pepper, garlic powder,

coriander, basil and marjoram, and then frying them about 1 minute on each side, and then I'm putting them on a cookie sheet with a half a piece of bacon and a nice thick slice of cheese on each one, and then I'm broiling them for 5 minutes until they're done. But what I'm actually making, said I, is fried snakeskins. It was the first thing that popped into my head. So there you are.

*Pound the bejeebers out of chicken breasts with the flat side of a bejeeber hammer, as even the finer toothed end of these hammers is too rough for chicken. Or use any other blunt instrument (carpentry hammer, two-by-four, the lead pipe in the conservatory...) that comes to hand.
---

3 lb. chicken cut in serving pieces, rolled in seasoned flour, fried 15-20 min. 'til brown on all sides. Meanwhile, back at the ranch, make batter: sift together 1-1/2 c. sifted flour, 1-1/2 t. baking pdr & 1 t. salt. Beat 4 eggs, add 1-1/2 c. milk & 3 T. melted butter. Gradually add to dry ingredients, beating slowly until smooth. Turn batter into generously greased shallow baking dish ~10" diameter. Put chicken into baking dish with pieces only partially covered by batter. Sprinkle top with black pepper and bake one hour in moderate oven. Serve at once.
---


Coat 8 pieces of chicken in 3/4 c. flour, seasoned with 1/4 t. salt, 2 t. paprika, and 1/4 t. thyme. Melt 1/2 c. shortening in baking pan. Arrange chicken, skin side down, in a single layer in pan. Dot with butter. Bake in hot oven (425°F) for 25 to 30 minutes. Turn chicken. Dissolve 1 chicken bouillon cube in 1/3 c. hot water, add 1 T. lemon juice; pour over chicken. Sprinkle with 1 T. rosemary and 1/2 c. parsley. Continue to bake for 30 minutes or until chicken is tender. Makes 8 servings.
---
| | | | |
| --- | --- | --- | --- |
| 3 lb. | frying chicken or chicken parts | 2 T | flour |
| 4 c. | water | 3 oz. | sliced mushrooms |
| 1 clove | garlic | 6 | stuffed, chopped, omitted olives |
| 1 small | bay leaf | 8 oz. | cooked spaghetti |
| 1/4 lb. | butter or margarine | 1/4 c. | chopped parsley |
| 1 c. | chopped onion | 2/3 c. | shredded sharp Cheddar cheese |
| 1/2 c. | chopped celery tops | 4 | zzinis |
Cook chicken in water with garlic, bay leaf and salt to taste, 45 minutes or until tender. Strain and reserve broth. Remove meat from bones, and cut in bitesize pieces. Heat butter; add onion and celery tops; cook until golden. Blend in flour, add broth, and cook until slightly thickened, stirring constantly. Add chicken, 'shrooms, (olives,) spaghetti, and parsley. Turn into large shallow baking dish. Sprinkle with cheese and garnish with four zzinis. Bake at 350°F., 30 minutes, or until thoroughly heated, and cheese is melted and browned. Serves 6.
Variations: Crock the chick in the spiced water all day to cook it. Or boil boneless chicken breasts and used purchased broth. Use white or brown rice, cooked in the broth—you can cook it in the oven, in the baking dish, if you have a cover for it, and save a dish.
---
| | | | |
| --- | --- | --- | --- |
| 6 pieces | chicken | 1 | bay leaf |
| 1/4 c. | olive oil | 1 clove | garlic, crushed or minced |
| 1/4 c. | corn oil | 2 T. | basil (or tarragon or rosemary) |
| 1/2 c. | lemon juice | 1/2 t. | hot sauce, e.g., Tabasco (optional) |
| 1 med. | onion, thinly sliced | | pepper and salt to taste |
Combine all ingredients except chicken to make marinade. The herb you choose will determine the flavor of the chicken. Put chicken in large bowl and pour marinade over it. Allow to marinate at room temperature for an hour or two. Place chicken on rack in large roasting pan. Brush with marinade. Bake uncovered, basting every 10 to 15 min. with bulb baster (or just spoon), until golden brown—about one hour. Chicken may be served hot or cold.
If pressed for time, a prepared salad dressing, such as Italian or French, may be used as the marinade. You can skip marinating the chicken. Just put the chicken in the pan, pour the marinade or dressing over it, and bake 1 hour. You needn't baste it. Following these shortcuts, even if you make a proper marinade (using dried garlic and onion and purchased lemon juice), preparation time is less than 5 minutes, including the time it takes to put on brown rice, which you might as well do since that takes an hour to cook, too.
---
| | |
| --- | --- |
| 3 T. | butter |
| 3 T. | flour |
| 2 c. | chicken broth |
| 1 1/2 c. | cooked chicken |
| 2/3 c. | chopped apple |
| 1 stalk | celery, chopped |
| 2 T. | chopped onion |

Make butter and flour into roux. Stir in broth. Heat to boiling, stirring constantly. Boil and stir 1 minute.
Mix chicken, apple, celery, onion and 3/4 c. of the thickened broth. Place scant 1/4 c. chicken mixture on center of each crèpe; roll up. Place crèpes seam side down in ungreased oblong baking dish, 13 1/2x9x2 inches. Pour remaining broth over crèpes. Cook uncovered in 350°F oven until crèpes are hot, about 20 minutes.
Works equally well with left-over roast pork or leg of lamb. Try increasing onion to substitute for celery. Season with garlic, nutmeg, cinnamon, and maybe clove.
---
| | |
| --- | --- |
| 1 c. | flour |
| 1/3 t. | baking powder |
| 1/4 t. | salt |
| 1 1/4 c. | milk |
| 1 | egg |
| 1 T. | butter, melted |
Mix dry ingredients. Stir in remaining ingredients. Beat by hand until smooth. Lightly butter 7- or 8-inch curved-sided skillet; heat over med. high heat until bubbly. For each crèpe, pour scant 1/4 c. batter into skillet; immediately rotate skillet until thin film of batter covers bottom. Cook until light brown; flip; cook other side. Slide into baking dish and fill.
---
| | | | |
| --- | --- | --- | --- |
| 1~2 heads | cabbage | 1 | egg |
| 1/2 lbs. | hamburg | 1 | onion, diced |
| /14 lb. | ground pork | 1+ very large can | tomatoes |
| 2 c. | rice, partly cooked | | salt, pepper, etc. |
Core cabbage. Cook cabbage (boil 'til half gushy). Fry onion in vegetable oil. Mix hamburg, pork, rice, egg and onion. Add salt, pepper, etc., to taste. Roll up fistfuls of meat in cabbage leaves. Put nicely in pan. Pour tomatoes on top. Add water to cover rolls. Cook at 350°F in oven until done. Makes enough for 12+.
You can substitute hamburger for the ground pork. Don't cover leftovers with foil to store, as the tomatoes will eat right through it. Glumki (which is spelled with a slashed l) is pretty much pronounced gwumky; just one little cabbage roll is a glumbek. Make sure you put those glumki in nicely, now!
---
| | |
| --- | --- |
| 3 | eggs, beaten |
| 2 c. | milk, scalded to hasten cooking time |
| 1/2-3/4 c. | grated cheese |
Mix all together & pour into 8 or 9 inch well-pricked, unbaked pie crust. Pâte Brisée is a good crust recipe. Leftover quiche nukes well if made with this crust, which is quite dry.
| | |
| --- | --- |
| | —condensed from the Joy of Cooking |
For quiche Lorraine use bacon & swiss cheese; for Alsacienne use cooked and cooled onions with a grating of nutmeg—try adding parsley and cooked and cooled sausage to this. Whatever is in fridge goes! Put your chosen ingredients in the crust before pouring in the egg & milk mixture.
Bake at 450°F for 15 minutes, 325° until set (10-20 minutes) or at 375° for 25-30 minutes and then 350° for 25 minutes.
---
Work together with fingers or cut together with a pastry blender:
| | |
| --- | --- |
| 1/2 c. | chilled butter plus 3 T. lard or veg. shortening |
| 2 c. | flour |
| 1/2 t. | salt |
Make a well in the flour mixture and pour in gradually
stirring the liquid in. The dough should be soft enough to gather up into a ball but should not stick to the fingers or the board. Allow the dough to rest refrigerated from 2 to 36 hours, covered with a damp, wrung-out cloth for the shorter period or foil for the longer. The resting of the dough breaks any rubbery reactions it might develop when rolled and handled.
| | |
| --- | --- |
| | —condensed from the Joy of Cooking |
I use this recipe for Quiche crust and omit refrigerating the dough—the crust comes out just fine.
---


1 1/2 lb.
elbow macaroni
3 1/2 T.
unsalted butter
1 1/2 c.
milk
1
egg, beaten
1 1/2 t.
powdered mustard
3 1/2 c.
grated sharp Cheddar cheese (about 3/4 lb)
1 t.
Worcestershire sauce
1/2 c.
fresh bread crumbs
3/4 t.
salt
1/2 t.
paprika
few drops of
hot pepper sauce
Preheat oven to 350°F.
Cook the macaroni until tender but still firm, about 8 minutes. Drain well.
Meanwhile, in a small heavy saucepan, bring the milk to a simmer over moderate heat. Remove from heat and stir in powdered mustard, Worcestershire sauce, and hot pepper sauce. Set the seasoned milk aside. Only heat the sauce enough to mix the ingredients; if this means no heating, that's fine. If you overheat it, it will separate.
In a buttered shallow 2-quart baking or gratin dish, mix the egg and 1 1/2 tablespoons of the butter. Stir in 3 cups of the Cheddar cheese. Spread the macaroni evenly in the buttered baking dish. (If you have a pot which you can use both on the stove and in the oven, cook the macaroni in it, drain the macaroni in a strainer, butter this pot and mix the egg and butter in it, and return them to this pot.) Pour the reserved seasoned milk over the macaroni and sprinkle with the remaining 1/2 cup grated cheese.
In a small skillet (or reuse the sauce pan), melt the remaining 2 tablespoons butter over moderate heat. Stir in the bread crumbs until well coated. (If you're in a hurry, skip buttering the crumbs, though it won't taste quite as nice.) Scatter the buttered crumbs evenly over the macaroni and sprinkle with the paprika.
Bake for 30 minutes, or until the macaroni is bubbling and lightly colored. Transfer to the broiler and broil about 6 inches from the heat until the bread crumbs are golden brown, 1 to 2 minutes.
| | |
| --- | --- |
| | —from Food & Wine magazine, Oct. 1988, via S & C |
---
Kichari
Kichari is an Indian dish, pronounced "kitchery" with the accent on the first syllable. (It's only distantly related to kedgeree, or should I say vice versa.) You sauté onions in ghee, add Indian seasonings and garlic and sauté a bit more, add stock or water, lentils, and rice, and cook until done. I usually use several types of lentils (regular brown lentils, little brown lentils, little green ("French") lentils, pink lentils) and either punt the rice or substitute some other grain (farro or quinoa). I add coriander, turmeric, garam masala, and bay leaves according to the recipe, substitute dry ginger for fresh because who has fresh?, go heavy on black pepper and light on cumin, and skip the cayenne. I assume this recipe has been whirled around a bit in the folk processor. It calls for lemon juice and tamari, and I'm suspicious of whether an Indian recipe would actually use these (tamari? really?), but I usually use them anyway, or substitute vinegar for lemon juice if I don't have the latter.
I make kichari by the vat (5‐6 cups lentils/grains and everything else increased to match), freeze a quart or two or three, and eat it a week at a go. It makes great lunches for work: I pack it up with a heap of cooked vegetables.
| | | | |
| --- | --- | --- | --- |
| 1 c. | lentils | 2 | bay leaves |
| 2 c. | rice (or a little less) | | curry type spices |
| 6–7 c. | water | | tamari |
| 1 | onion | | salt, pepper |
| 3–4 cloves | garlic | | ginger, lemon, cayenne |
| 2 T. | ghee | | |
Melt ghee in large pot. Sauté onion and garlic for 5–10 minutes, then add cumin, coriander, turmeric, curry (about 1 tsp each, more to taste) and sauté for a few more minutes. Add 1 1/2 c. water, raise heat, add rice and lentils, stir, then add 5 cups water and bay leaves, and salt and pepper to taste. (If you're on a low-salt diet, the salt in tamari is all you need.) Heat to boiling, then simmer covered for 40 minutes, stirring occasionally. Add grated ginger (1–2 T.), lemon juice, cayenne. You can always add more water to make it soupier.
| | |
| --- | --- |
| | —updated from a recipe from Colleen's cousin Laura |
---
Appetizers | Soups | Salads | Main Dishes | Vegetables | Breads, etc. | Cakes and Pies | Cookies | Other Desserts | Drinks | Thanksgiving Dinner | Spice Advice | Colophon | Copyright

Back to Favorite Recipes of the Menagerie.

Last modified Aug 8, 2018, Sue Felshin