Contents
---
Over double boiler, stir each time till smooth or blended:
| | | |
| --- | --- | --- |
| Melt | 12 oz. | semi-sweet chocolate (chips or solid) |
| Melt | 1 oz. | bitter chocolate |
| Melt | 1 stick | butter (sweet is better) |
| Add | 1/4 c. | heavy cream |
| Add | 4 | egg yolks (you can use whites for "Hickory Nut" (Walnut) Cake) |
| Add | 4 T. | liquor (vanilla, rum, crème de cacao, brandy, and/or suchlike) |
Let cool slightly (stir if necessary if any separation), then refrigerate till stiff enough to handle.
To form: Spoon desired volume of truffle into narrow high sided container of chopped nuts. Bounce truffle till coated with nuts, then round up in hands & repeat if necessary.
Makes about 50 1" balls. Requires at least 8 oz. shelled nuts (~1 lb. in shells—walnuts). Have more on hand in case. Can be formed next day after letting mixture warm up not quite to room temperature.
For a variation, see the saga of the Chocolate Cabbage.
---

cream cheese or yogurt cheese (see below)
cocoa powder to taste
extra fine sugar to taste
vanilla extract to taste
Use as much cream cheese as desired for the resulting number of death bombs. The other ingredients do not add appreciably to the volume; add them to taste, which, of course, requires frequent tasting. If anyone comes up with amounts for the other ingredients, don't tell me about it. Mix all ingredients with a spoon. Roll into little balls (1" or less in diameter), then roll in either cocoa powder or confectioner's sugar. Or a combination of both. Place them on wax paper and freeze them; this is the only way to keep them from becoming a disastrous mess.
Cream cheese: soft cream cheese is easiest to use, since no matter what sort you start with (standard, soft, whipped), it will end up soft.
Yogurt cheese: suspend yogurt in cheesecloth over a bowl to catch the liquid for a day or three. It's not as sour if you do this in the fridge. Use yogurt cheese if you're worried about calories. Wait a minute. If you're worried about calories, why are you making chocolate death bombs? Just use cream cheese; it's easier.
| | |
| --- | --- |
| | (from Stuart & Catherine) |
---

| | |
| --- | --- |
| 1 oz. | baking chocolate or 3 T. cocoa + 1 T. butter or margarine |
| 1/2 c. | sugar |
| 2 c. | milk |
| 3 T. | cornstarch |
| 1 t. | vanilla |
Melt chocolate in double boiler, add sugar gradually (mix cocoa thoroughly with sugar until no lumps of cocoa are left), add 1 1/2 c. milk (throw in butter) and vanilla. Heat thoroughly; add cornstarch with remaining milk. Cook over medium high heat, stirring constantly, until it puds, about 15 minutes. If it won't pud, crank the heat slightly. Mold and chill if desired. If you nuke the milk until warm before adding—leaving some milk cold for cornstarch—will cook faster.
Try using a T. or so of the contents of the Holy Hand Grenade of Antioch (that's Chambord to you heathens) in place of vanilla. Ooee!
---

| | | | |
| --- | --- | --- | --- |
| 2 T. | gelatin (2 pkgs.) | 1 1/2 c. | juice |
| 1 c. | cold water | 3 T. | lemon juice |
| 1 c. | boiling water | 2 1/2 c. | sugar |
Soak gelatin in cold water 5 minutes; dissolve in boiling water. (Add sugar.) Stir well; add juice and lemon juice. Pour into wet mold. Chill until firm. Do not add pineapple, kiwi, or juice of same—they prevent gelling.
---

Winner, "Best Non-Chocolate Other Dessert", 2003 MIT AI Lab Olympics Bake-off
Here's the short version: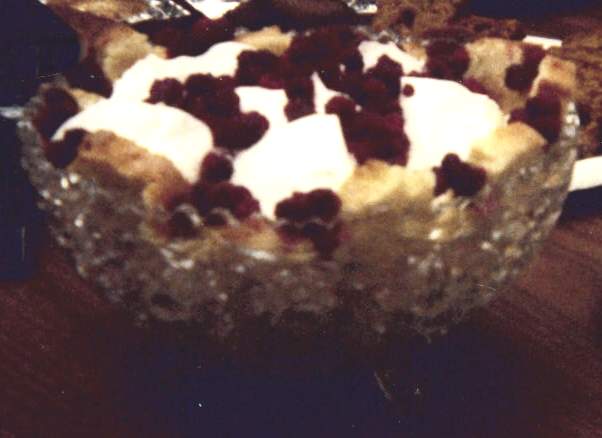 I made pound cake for a base (Hannah Glasse "Nun's Cake" recipe with vanilla and mace and without caraway or currants, and with egg whites beaten separately and folded in), sprinkled it liberally with creme de cassis, layered the Joy of Cooking's "Rich Custard" (flavored with nutmeg) with thawed Trader Joe's frozen peach slices, topped with sweetened whipped cream, and garnished with my own home-grown thawed frozen raspberries.
Here's the long version:
I based the trifle on the recipe in The Joy of Cooking, p. 688. You will need:
One loaf of Nun's Cake (leave out the caraway seeds), or any kind of pound cake. For the 2003 Bakeoff version, I used Nun's Cake with vanilla and mace and without caraway or currants, and with egg whites beaten separately and folded in.
Two or three tablespoons of fruit liqueur or strong liquor (I use my own raspberry cordial, but you could also use rum, fruit brandy, plain brandy, etc.). For the 2003 Bakeoff version, I used creme de cassis.
One recipe of Rich Custard with a tiny sprinkle of nutmeg added (or you can add the nutmeg to the cake instead).
One to two cups of fresh fruit; raspberries and/or peeled peaches are especially nice—when fresh fruit is out of season, I use my own home-grown raspberries, which I store frozen, plus Trader's Joes frozen sliced peaches; one time I used store-bought raspberries and peeled apricots.
About a cup of whipped cream for garnish (if you buy a pint of heavy cream, you'll have just enough for the Rich Custard, plus garnish).
To assemble the trifle, slice the cake and line a nice dish (like a cut-glass bowl) with the slices. Drizzle the cake with the liqueur. Alternately spoon in fruit and custard in two or three layers, reserving some good-looking fruit for the top. Arrange some fruit nicely on top of the last of the custard. Spoon on the whipped cream in a few dabs on top, and top each dab with a berry or other small piece of fruit. Keep chilled until serving.
---
From The Joy of Cooking, p. 735.
Mix in the top of a double boiler:
| | |
| --- | --- |
| 3/4 c. | sugar |
| 2 T. | cornstarch |
| 1/8 t. | salt |
Gradually stir in:
| | |
| --- | --- |
| 2 c. | milk and cream, mixed |
Cook covered over—not in—boiling water 8 minutes without stirring. Uncover and cook for about 10 minutes more. Add:
| | |
| --- | --- |
| 4 | well-beaten egg yolks |
| 2 T. | butter |
Continue to cook and stir these ingredients 2 minutes longer. Cool, stirring occasionally to release steam, then add:
Fold in:
Chill the custard. It will have the consistency of a heavy whipped cream.
Notes: I use one cup milk and one cup heavy cream. If you buy a pint and whip up the rest of the cream, then after you mix a cup of this into the custard you have just enough left to garnish a trifle. I often sprinkle a smidgen of nutmeg in the custard when I add the vanilla, to give a slightly more 18c flavor. I've made this custard three times. Once it came out perfect. Twice it failed to stiffen properly; I had to pour it in the trifle dish, and the trifle was soupy (tasted fine, though). The two times that it didn't stiffen, I made it in a hurry and transported it and couldn't chill it properly or keep it chilled, so that may have been the problem.
---
Appetizers | Soups | Salads | Main Dishes | Vegetables | Breads, etc. | Cakes and Pies | Cookies | Other Desserts | Drinks | Thanksgiving Dinner | Spice Advice | Colophon | Copyright

Back to Favorite Recipes of the Menagerie.

Last modified Dec. 8, 2014, Sue Felshin